Affordable Hybrid Car of the Year 2021: Toyota Yaris
The Toyota Yaris is the 2021 Auto Express Affordable Hybrid Car of the Year, with the Hyundai Tucson and Skoda Octavia iV commended
Toyota's Yaris has always been a sensible and pragmatic supermini choice, but this latest version is far more than that. Due to its excellent hybrid powertrain and a new architecture that makes it far better to drive than before, it's our favourite affordable hybrid for the second year in a row. It uses a successful combination of a 1.5-litre petrol engine and an electric motor to provide strong efficiency, with the most economical model returning 68.8mpg and CO2 emissions of 92g/km.
Yet the hybrid system isn't just great because it keeps running costs low. It also means that the Yaris is smooth and quiet when driving on electric power, particularly in city traffic, which small cars like this are made for. The extra assistance from the electric motor helps both performance and refinement, too, not only giving a hit of power, but also taking the load off the petrol unit. The CVT automatic gearbox is well calibrated to bring efficiency, but doesn't cause the engine to drone like in older CVT cars.
The Yaris's new platform means the hatch is both comfortable and surprisingly fun to drive for a car focused on efficiency. A mix of good body control and comfort means it suits many different situations.
Toyota has even got the in-car tech just right. There's an eight-inch touchscreen with Apple CarPlay and Android Auto, plus many other features, such as LED lights, climate control and plenty of safety kit.
It's not the most roomy supermini, but with 286 litres of boot space and enough legroom in the rear for passengers, it's still a practical enough choice. But best of all, not only will it be cheap to run, but it's also keenly priced in the first place. That's why it's our Affordable Hybrid Car of the Year for 2021.
Best deal
Toyota Yaris Hybrid Design (£21,855)
A zero per cent finance offer is currently available for selected Yaris models, with the Design trim one of those to benefit. An eight-inch touchscreen and LED lights are standard-fit, and buyers able to place a 10 per cent deposit will be able to get behind the wheel of one for £292 per month on a three-year PCP deal.
Commended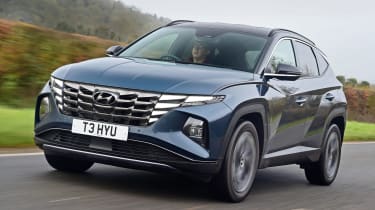 Not only is the new Hyundai Tucson smart, well equipped and well built, it also comes with a range of powertrains including a mild-hybrid petrol, a full hybrid and a plug-in hybrid. All three use a quiet and efficient 1.6-litre petrol engine with varying degrees of electrical assistance, and feel more upmarket than their affordable prices might suggest.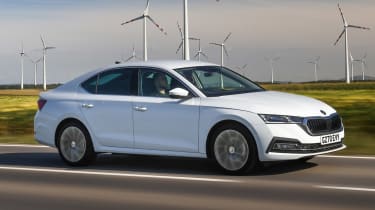 The Skoda Octavia is a fantastic family car in any guise, and the plug-in iV model is great for those who can charge up at home to benefit from its useful all-electric range. The Skoda's powertrain is smooth, quiet and efficient, plus the iV has all of the great features of any other Octavia, including a comfy ride, good in-car tech and a roomy interior.
New Car Awards 2021: the winners
Special edition of Auto Express
For the full experience, make sure you pick up a copy of our special New Car Awards collectors' edition of the Auto Express magazine, which is available in shops now.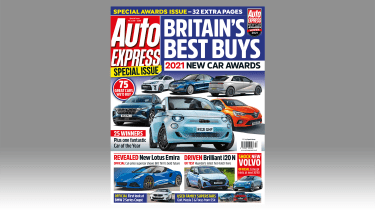 You can buy individual issues of Auto Express or subscribe for even bigger discounts on the magazine cover price. You can currently Subscribe and get 6 issues for just £1 or download our digital edition direct to your desktop, phone or tablet.