Coupe of the Year 2021: Alpine A110
The Alpine A110 is the 2021 Auto Express Coupe of the Year, with the BMW 4 Series and Porsche 718 Cayman commended
It's another win for the A110 in our Coupe category. As before, it's not just because it's one of the most involving driver's cars you can buy, but it also proves that a unique sports car doesn't have to be unattainably expensive.
The A110 uses a bespoke aluminium chassis that allows a kerbweight unheard of in most modern cars; it's just 1,098kg in its lightest form. That's the kind of weight most cars used to be in the 1960s, when the original A110 came out, so it's an astonishing achievement in 2021. The styling looks like something from that era as well, but with all the right modern touches.
It's a stunning car to look at as well as to drive – and the reason it's so brilliant is all down to that low weight. The suspension works with the road surface rather than being super-stiff to keep a heavy body in check, so it feels delicate and well balanced.
You sit really low in this mid-engined sports car, so it feels very special, and the engine is another delight, despite its relatively humble numbers. The motor is a 1.8-litre four-cylinder turbo petrol with 249bhp, or 288bhp in the A110 S.
Yet that low weight means performance is plenty fast enough: 0-62mph takes less than 4.5 seconds, and the engine is full of life, thanks to a fun induction noise and turbo whoosh right behind your head.
The auto gearbox is sharp and good to use whether you're trundling around town – where the Alpine is a breeze to drive – or heading along a twisting mountain pass.
Best deal
Alpine A110 Pure (£49,005)
Every A110 is great, but there isn't much need to venture beyond the most affordable Pure version. It delivers the same great responses as high-spec models, and although it lacks a little firepower, it's still a beautifully judged package for UK roads. Before extras and colour options, the Pure starts from £49,005 – and it feels very special for the money.
Commended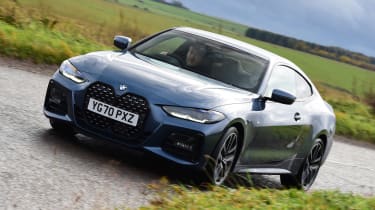 The 4 Series is a fantastic coupe to choose if you're going to stick to one car on the driveway, because it does everything really well. It's sharp to drive and performance is strong, yet it's comfortable and full of tech and convenience features, while the rear seats and boot offer decent practicality.
Porsche 718 Cayman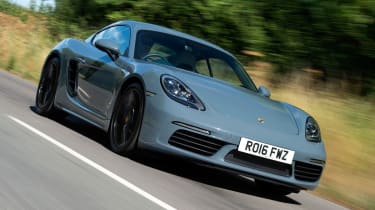 Perfect control weights, a sublime driving position, incredible grip and composure, and as much performance as you could ever need are all the hallmarks of the 718 Cayman. It's at home on track days as well as the daily commute, while the six-cylinder models have revitalised Porsche's smallest coupe.
New Car Awards 2021: the winners
Special edition of Auto Express
For the full experience, make sure you pick up a copy of our special New Car Awards collectors' edition of the Auto Express magazine, which is available in shops now.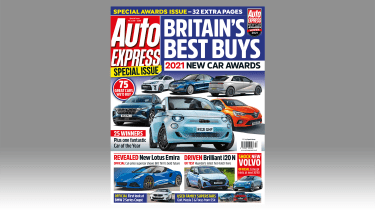 You can buy individual issues of Auto Express or subscribe for even bigger discounts on the magazine cover price. You can currently Subscribe and get 6 issues for just £1 or download our digital edition direct to your desktop, phone or tablet.