Design Award 2021: Hyundai Ioniq 5
The Hyundai Ioniq 5 is the 2021 Auto Express Design Award winner
For this year's Design Award, we offered the chance for you, the readers, to vote for 2021's most stunning new car. In the end, the win was comfortable; congratulations to the Hyundai Ioniq 5, which took 18.9 per cent of the poll.
Eye-catching, contemporary and distinctive, it's a showcase of styling done right; retro without being overtly pastiche, unique without being fussy and, despite its size, well judged proportions.
Inspiration for the shape was taken from the Hyundai Pony Coupé concept of 1974, although elements of another Giugiaro design classic are there; that boxy hatchback shape and those flat-faced, rally-esque wheels give off a strong hint of the Lancia Delta. The detailing is fantastic, too – the pixel-like LED lights and fine illuminated slats running the width of the front end are particular highlights – while the vast cabin shows minimalism without compromising functionality.
Second place was taken by the Renault 5 Concept with 11.1 per cent of the vote, while third position was a tie between the Audi e-tron GT and Lotus Evija.
New Car Awards 2021: the winners
Special edition of Auto Express
For the full experience, make sure you pick up a copy of our special New Car Awards collectors' edition of the Auto Express magazine, which is available in shops now.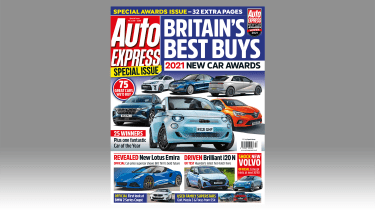 You can buy individual issues of Auto Express or subscribe for even bigger discounts on the magazine cover price. You can currently Subscribe and get 6 issues for just £1 or download our digital edition direct to your desktop, phone or tablet.