Hot Hatch of the Year 2021: Hyundai i20 N
The Hyundai i20 N is the 2021 Auto Express Hot Hatch of the Year, with the Honda Civic Type R and Cupra Leon commended
When Hyundai released the first model from its performance-focused N sub-brand, the i30 N, the Korean firm really grabbed the attention of hot hatch fans. But it's the division's second hot hatchback, the i20 N, that's an absolute corker. Developed under the direction of ex-BMW M head Albert Biermann, the car distils everything we love about hot hatchbacks into an appealing, aggressive and affordable package.
Under the bonnet sits a 1.6-litre turbocharged four-cylinder petrol engine with 201bhp and 275Nm of torque. It's an angry-sounding unit, with the snarl of induction noise, and whistles from the turbo that come from the nose really helping to ramp up the excitement every time you venture towards the red line – and thanks to this car having one of the slickest six-speed manual gearboxes we've encountered, the incentive to wring the engine out only grows stronger.
Point the i20 N at a twisty section of road and it just gets better. The steering is positive and front-end grip is tenacious, with superb traction out of bends thanks to the clever mechanical limited-slip differential. With a brilliant level of body control and poise, the whole thing instills a huge degree of confidence at higher speed.
The i20 N deserves huge praise for the way it drives, then, but also for the five-door car's functionality. And then you see the price; £24,995 for a hot hatch with this impressive mechanical make-up, a rev-matching function, part-leather sports seats, a 10.25-inch infotainment system with an equally large digital dash, and LED headlights makes this an absolute bargain.
Best deal
Hyundai i20 N (£24,995)
There's just the one trim option for the i20 N, and it's both competitively priced and generously kitted out. A representative quote from Hyundai includes a £1,500 deposit contribution from the manufacturer; with a further £2,500 placed up front, a three-year contract will result in payments of £360 per month. If you want this striking Performance Blue paint (or any other colour that's not white), it's an extra £16 per month.
Commended
The Honda Civic Type R is a serial winner of our Hot Hatch crown, but has to cede its title to the i20 N this time. However, the addition of the new Sport Line trim – with toned down styling and smaller wheels that improve the ride comfort even further – only adds to the appeal of Honda's already brilliant offering. Its powertrain and chassis are wonderful.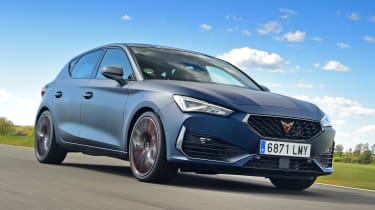 The peak of Cupra's ever-growing line-up is the Leon – a model which shares much with the Volkswagen GTI Clubsport. The Spanish brand's offering has just a little extra flair, though; in its most potent spec it's sharper and more playful to drive than the VW, yet is just as practical and relaxing to own. It's also generously equipped for the cash and offers a more exclusive image.
New Car Awards 2021: the winners
Special edition of Auto Express
For the full experience, make sure you pick up a copy of our special New Car Awards collectors' edition of the Auto Express magazine, which is available in shops now.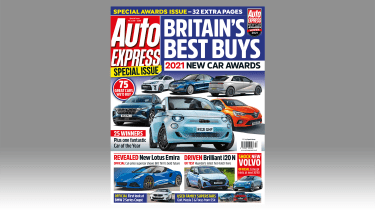 You can buy individual issues of Auto Express or subscribe for even bigger discounts on the magazine cover price. You can currently Subscribe and get 6 issues for just £1 or download our digital edition direct to your desktop, phone or tablet.