Van of the Year 2021: Ford Transit Custom
The Ford Transit Custom is the 2021 Auto Express Van of the Year, with the Volkswagen Caddy Cargo and Land Rover Defender Hard Top commended
Vans have helped to keep the country moving in the past 18 months, and the Transit Custom is the best in the business. Whether you go for the basic steel-wheeled, black-bumpered Leader, or choose the rugged Trail and Active variants, or the high-spec Sport and MS-RT versions, it really is the van that can.
There are two body lengths and roof heights to choose from (depending on trim), while the five-seat Double Cab in-Van, multi-seat Kombi and upmarket Tourneo Custom also offer versatile family transport. Once you've picked a body, the 2.0 EcoBlue diesel is available in four power outputs, while 48-volt mild-hybrid tech is now available to further lower your running costs. If you want zero-emissions driving, then the range-extending Transit Custom PHEV offers 33 miles of EV range.
Commended
Volkswagen Caddy Cargo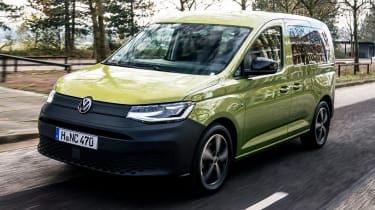 New ground has been broken by the Caddy Cargo. It's still a useful small van, but it's up front where the big changes lie. The Caddy shares its tech with the Mk8 Golf, so there's the latest connectivity and a suite of electronic kit that makes driving this van as safe and secure as any car.
Land Rover Defender Hard Top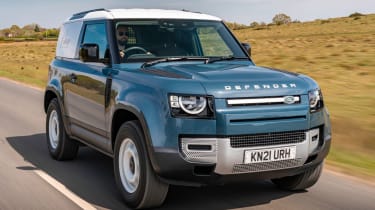 The Defender Hard Top is a work vehicle with style. It has the same striking body as the regular SUV, but the back seats are replaced by a generous cargo area. While the cab now only has room for up to three people, it's built to the same luxury standard as the passenger model.
New Car Awards 2021: the winners
Special edition of Auto Express
For the full experience, make sure you pick up a copy of our special New Car Awards collectors' edition of the Auto Express magazine, which is available in shops now.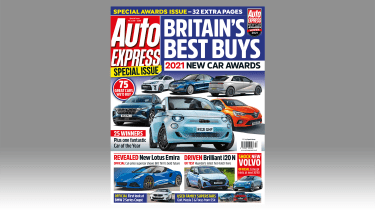 You can buy individual issues of Auto Express or subscribe for even bigger discounts on the magazine cover price. You can currently Subscribe and get 6 issues for just £1 or download our digital edition direct to your desktop, phone or tablet.