What is BMW iDrive?
BMW's iDrive in-car control and infotainment system explained: what it does and how to use it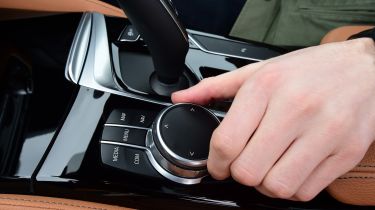 With in-car technology getting more and more complex, it's important that the driver can stay on top of things without being distracted from the road ahead. This is the philosophy that has underpinned the BMW iDrive infotainment system for over 20 years, with the set-up allowing drivers to access and interact with a large number of the car's settings with a minimum amount of fuss.
iDrive works so well that it has developed a reputation as one of the best in-car control systems you can buy: Audi's MMI and Mercedes's COMAND systems have followed iDrive down the same path.
But what exactly does iDrive do? Well, when BMW first introduced iDrive on the 7 Series limo in 2001, it created a system that put all of the cabin control functions in one place. There's a central dashboard screen displaying information on navigation, audio and telephone settings, which is controlled via a rotary wheel that's located next to the gear lever. Over time, BMW has developed and enhanced the iDrive system, and today it's one of the most intuitive and user-friendly cabin controllers on the market.
Initially, iDrive itself was seen as too fiddly and a distraction from driving by many people, as it required the driver to look away from the road to ensure the controller was selecting the right menu or sub-menu on the screen. But as with any new technology, once you get used to how the system works, and as BMW has developed iDrive over time, it soon becomes second nature. On the whole, users of iDrive are likely to spend less time distracted by the system than they would with a touchscreen set-up.
In time, BMW developed the iDrive system to become more user-friendly, adding shortcut keys around the rotary controller, while voice control has added another level of user-friendliness to the system.
How does iDrive it work?
The latest version of BMW iDrive in its simplest form features a rotary controller that rotates clockwise and anti-clockwise, can be moved forwards, backwards, left and right, and presses down like a computer mouse to select an option. On more advanced versions of iDrive, the top of the control wheel also doubles as a touchpad for writing characters, although this only works well in a right hand-drive car if you're left-handed or dexterous enough to write characters clearly with your left hand – otherwise you might be better off with the voice control system instead.
As well as the rotary controller, there's a group of buttons at its base that are shortcut keys to sections of the iDrive system. These can send you straight to navigation, audio, telephone and car set-up screens without having to navigate back to the home screen – although there's also a shortcut to get you straight back there.
Press these buttons, and the display on the centre console will switch to the selected option, allowing you to use the iDrive controller to scroll up and down to select your preferred option. Selecting these is likely to offer up more sub-menus, and while it might be easy to get lost within the menus, it's good to know the shortcut buttons are there to get you back to the start if necessary.
Partnership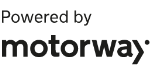 Need to sell your car?
Find your best offer from over 5,000+ dealers. It's that easy.
When you have the navigation selected, the iDrive controller allows you to zoom in and out of the map, while sliding the controller from side-to-side will allow you to look at your surroundings. It also allows you to easily change the point of view of the map, from 2D to 3D and perspective styles, while BMWs with a larger infotainment screen can even have a split-screen view that allows you to have detailed junction information alongside the standard map screen.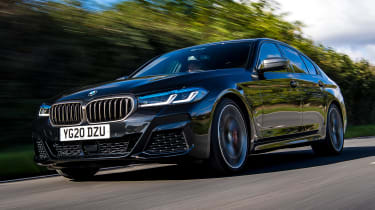 On more advanced models with 360-degree cameras, the iDrive system allows you to select which cameras you want to view, zoom in and out, and change from narrow to wide-angle views.
Ironically, BMW has now started offering touchscreen infotainment systems on some of its cars, although usually this comes in conjunction with an iDrive controller. However, we think the latest iDrive control system is the best yet, because once you've taken some time to familiarise yourself with the system, it's pretty easy to use. What's more, it doesn't leave grubby fingerprints on the screen.
iDrive problems
Of course, technology such as iDrive won't be to all tastes, but the latest systems should at least be reliable. Past versions of iDrive had problems with screens going blank, the sat-nav not functioning properly and the inability to read CDs. These faults were down to the connections between the car and the iDrive system, but later models use a different set-up that should be more reliable.
If you go to a BMW dealer, they will probably charge a small fortune to get an iDrive unit replaced if you're out of warranty. But there are a number of independent outlets that claim to be able to get your iDrive system working properly again through repair, although our advice is to only go to a recommended garage and preferably a BMW specialist, and only do so once your BMW is out of warranty.
New BMWs should be easier to fix if you're having problems, and you can expect your next BMW service to also include a software update to ensure all systems on board are working properly. 
What is the future of iDrive?
Two decades on from its introduction, BMW's iDrive system is still going strong, and the manufacturer has big plans for how the system will integrate with the next generation of vehicles.
BMW has hinted that iDrive will soon become more intelligent than before, using cloud-based information harvested from other BMWs on the road to share hazard warnings and predict the availability of parking spaces at your destination. The company says it will become more 'emotional' too, with fancy interior lighting designed to create a more immersive experience for drivers.
While the voice and gesture control functions are set to get more sophisticated too, the all-important rotary wheel is set to remain when the latest edition of iDrive makes its debut in the forthcoming iX SUV.
Which infotainment system do you like the best? These are our favourite cars for infotainment and technology...