Best Design of the Year
Alfa Romeo 8C Competizione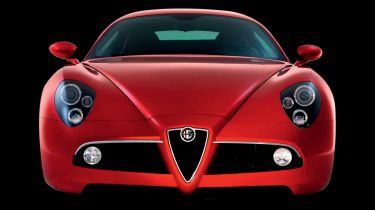 BEST DESIGN OF THE YEAR: Alfa romeo 8C Competizione
Choosing the best-designed car of the year is never easy, so we turned to you for help – Auto Express readers.
Voting on autoexpress.co.uk, thousands of you chose from nominees including the Fiat 500, Citroen C5 and Jaguar XF. In a landslide, it was one of the finest-looking cars from Italy in decades that stole the show. And it didn't have a Lamborghini or Ferrari badge on the bonnet – this beauty is an Alfa Romeo.
Built to head up the firm's rejuvenated range, the 8C Competizione's curvy shape is inspired by the past, yet it offers performance to rival the most futuristic supercar.
Featuring a 4.7-litre V8, the Alfa feeds power to the rear wheels. And with style of this calibre, it's no surprise that the 8C has attracted plenty of buyers. Alfa built only 500 examples, and every one has been sold. So even if you can afford the £100,000 price, most of us will have to admire it from afar.