Best Hot Hatch
MINI John Cooper Works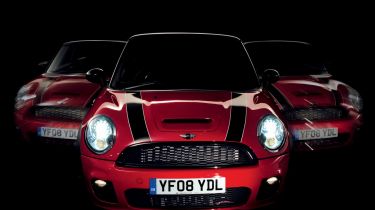 BEST HOT HATCH: MINI JCW
Every category in the Auto Express New Car Honours 2008 was determined by a punishing road testing schedule, but few awards were as enjoyable to judge as the best hot hatch.
And that's largely due to the sheer quality of the cars in contention. Engineers have been polishing up their fast hatches over the past few years, and the result is a class full of real thrillers. In the end, a machine that's been on sale for only just over a month took the honours. The MINI John Cooper Works is proof that bringing the famous British tuning firm in-house was a sound move by BMW.
The first JCW model to be produced at MINI's Plant Oxford is a firecracker. Not only is it one of the quickest cars in its class, it's also one of the most environmentally friendly thanks to BMW's EfficientDynamics stop-start and regenerative braking technology. But the JCW's real forte is entertainment, and where the car scores points over its rivals is with its ability to put a smile on your face on every drive.
Key to the MINI's appeal is its hi-tech new front differential. This feeds power to the wheel with the most grip, so when you are exiting a corner you don't feel the engine's torque needlessly spinning the unladen inside front tyre. Not only does this make the MINI more tractable and agile on the road, but it means the JCW is a highly capable track day tool, too.
The MINI John Cooper Works is the model that brings the no-frills thrills of the original to life in a thoroughly modern and brilliant package.
Commended: Honda Civic Type R, VW Golf GTI
Shortlist:Honda Civic Type R Renaultsport Clio 197 CupFord Focus ST MINI Cooper S VW Golf GTISEAT Leon Cupra MINI JCWVauxhall Corsa VXR