Best Executive Car
Jaguar XF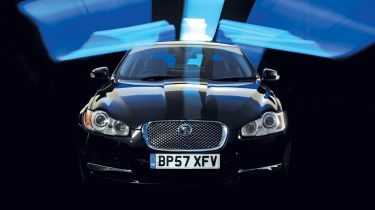 BEST EXECUTIVE CAR: Jaguar XF
When we read about the first details of Jaguar's new executive model, our expectations were sky high. Developed and designed by the same experts who brought us the superb XK in 2006, the XF was billed as the car that should take Jaguar back to the heart of the executive class.
Now that the sleek saloon is on sale in the UK, we haven't been disappointed. Despite sharing its basic underpinnings with the old S-Type, Jaguar has created a truly formidable four-door.
Even at a glance, it's clear to see that the XF is a beautiful saloon. Viewed in profile, it adopts the solid stance of the Lexus GS, while at the front the aggressive nose is more distinctive than any rival's.
Inside, the quality of design moves to the next level. It's not until you climb behind the wheel of the new XF that you realise how special it is. With one of the most original cabins ever fitted to an executive car, the Jaguar debuts neat design features such as hidden air vents and a rotating automatic gear selector that disappears into the centre console when not in use.
Silky smooth performance is a given, and we can't wait to get our hands on the forthcoming high-performance XF-R to see just how far the V8 engine can be pushed. The XF is the cream of Coventry, and a car that could, just maybe, prove to be a product of Jaguar's finest hour.
Commended: BMW 5-Series
Shortlist: BMW 5-SeriesAudi A6 Jaguar XFMercedes E-Class Lexus GSMercedes CLS