Best Estate Car
Ford Mondeo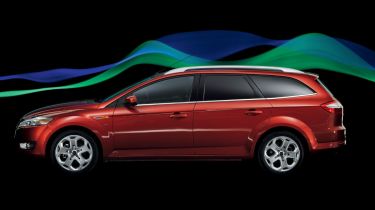 BEST ESTATE CAR: Ford Mondeo
Why it won: Hanging on to its title from last year, the Ford Mondeo estate is still the star performer in the class. Amazingly, if there's one criticism some drivers have of the Mondeo hatchback, it's that it has grown too big. But the Ford's oversized dimensions pay dividends when it comes to the estate variant.
The figures speak for themselves. Even with all five seats in place, it offers a 542-litre capacity. Drop the rear bench, and that rises to a staggering 1,733 litres, which is enough to better many full-sized MPVs.
Climb in the back and you soon appreciate the dimensions, too, as legroom is ample even for tall passengers. So it's huge inside – but where the Ford design is really clever is when viewed from the outside. With sleek rear lights and a swooping roofline, the estate is arguably better proportioned than the Mondeo hatch or saloon. Go for a high-spec version with large-diameter alloy wheels, and the Ford is much more stylish than any of its rivals.
Many buyers will be drawn to the blue oval model because it is an estate car of the old school. Much of the competition in this sector has focused on image and desirability, rather than out-and-out practicality. That's what has left models like the new Honda Accord Tourer and BMW 3-Series Touring lagging behind the versatile Mondeo.
Commended: Skoda Octavia
Shortlist: Skoda Octavia Ford MondeoMercedes E-ClassChrysler 300C Honda Accord TourerPeugeot 308 SWMazda 6 EstateAudi A4 Avant BMW 3-Series TouringFord Focus Estate Kia Cee'd SWSkoda Fabia estateHyundai i30 estate