MV Agusta F4 - best superbikes
Riding the F4 is a challenge. It's a bike that offers lots of excitement, but neither comfort nor compromise.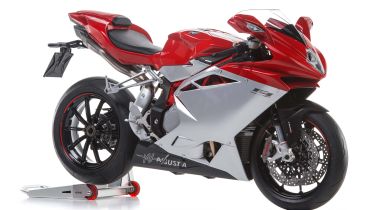 Riding the F4 is a challenge. It's a bike that offers lots of excitement, but neither comfort nor compromise.
It may be less rough around the edges than the original version designed by Massimo Tamburini, who also created the Ducati 916, but the F4 is still a pure race bike, which wears its roadgoing shackles of lights, indicators and plates with uneasy contempt.
Climb aboard, and the racing heritage hits you immediately, with the extreme riding position, the legend on the tank declaring that MV have won 37 world championships, and the message on the brilliantly designed digital dash that with the speed limiter off. This bike is capable of 217mph.
Although the rider's seat is perfect, the pillion is the size of a carefully folded napkin so practicality is not a strength. Small riders may struggle with the high seat, and tall ones with the high pegs, and how useful the mirrors are also depends on your height. If you're small or average, they're useless. If you're tall, they're completely useless.
Still, the 195bhp engine is a work of genius. Even in sixth, it will potter through town happily and pull from 2,000rpm, then when it hits 5,000rpm goes like a bat of out hell.
And here's the thing: it just keeps on going, accelerating all the way until the tacho is bouncing off the wire at 15,000rpm. You can have enormous fun passing traffic on the motorway in first gear for a while accompanied by a glorious howl.
Steering is slightly on the heavy side, which is no bad thing with all that power on board, since it forces you to concentrate deciding where you want to go rather than thinking the front end is going to do the work for you.
Braking, as you'd expect from the mammoth Brembo discs on the front, is just as phenomenal as acceleration, and suspension is race-firm to the point that after an hour you need to get off to ease your aching buns, back, neck and wrists
You can adjust all that, of course, so with a bit of fettling, this would be the perfect bike for someone who wants to ride very fast to a track, ride very fast around the track and then ride very fast home again.
Best superbikes
2. BMW S1000RR
7. MV Agusta F4