Kia Soul EV - Best electric cars
Funky looking Kia Soul EV injects a bit of quirkiness to electric car market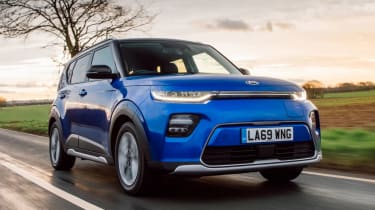 Price £34,295
Range 280 miles
Charging time 10h 30 min (wallbox), 45 min (10-80%, 77kW)
Rating: 4.5/5
If you're after an electric car that stands out from the crowd, then the Soul EV will be just the ticket. Kia's latest individual creation retains its funky styling, but also incorporates a state-of-the-art powertrain that's the equal of anything in the Hyundai-Kia line-up.
That shouldn't come as a surprise, of course, because the Soul gets the same 64kWh battery pack and energy-management system as the e-Niro. That means a quoted range of 280 miles on a single charge, in a car that has space for four adults and a boot capacity of 315 litres. The cabin is smart and functional, and while it includes the odd bit of hard plastic, it's well screwed together.
Of course, the Soul's looks won't be for everyone, but that's at least partly the point. This is a car that's designed to provoke a reaction; it certainly stands out, and that should be applauded.
Best electric cars to buy 2020