Pirelli Cinturato P7 review
Formula One supplier props up the table with Pirelli Cinturato P7, not excelling in any area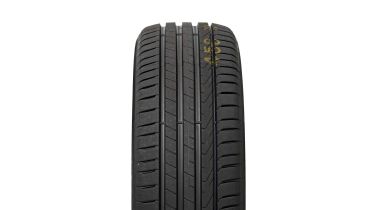 No firm wants to prop up the results – especially with a new tyre – but that's the case for Formula One supplier Pirelli. 
Although the Cinturato P7 name has been around since 2009, this is a new tyre launched this year. As is Pirelli's wont, the name is the same, but some call it the C2 to distinguish it from its predecessor. 
It already enjoys multiple original equipment listings, as did the previous version and, although a joint-ninth finish is not what the Italian maker would want to see, there are positives. 
This test is one of the closest we have conducted, and the P7 was less than two per cent behind our winner. On track that deficit was split pretty equally between wet and dry. In the former it felt good, with a strong front end, but that was not matched by the rear, and care was needed to stop it stepping out. It also seemed to skip over deeper water, although it had decent results in aquaplaning tests. 
The positive front end was gone on the dry track, giving it a stable rear, although plenty of lock was needed in tighter turns. It couldn't make up the gap at the pumps, using around four per cent more fuel than our top performer – a surprise for a new design and today's environmental focus.
Blackcircles.com says…
"A new model, with the same name as its predecessor, Pirelli's latest generation of the Cinturato P7 comes with good wet-grip label scores of A-B across the available sizes."
Figures
| | | |
| --- | --- | --- |
| Pirelli Cinturato P7 |   |   |
| Overall  | 98.40% | 9th |
| Price | £76.07 |   |
| Wet handling  | 99.10% | =5th |
| Wet braking  | 93% | 8th |
| Straight aquaplaning | 98.90% | 5th |
| Curved aquaplaning | 90.30% | 6th |
| Dry handling | 98.90% | 10th |
| Dry braking  | 98.50% | 6th |
| Rolling resistance  | 78.50% | 8th |
| Cabin noise  | 99.20% | 5th |