Ferrari 458 Speciale (updated)
Ferrari 458 Speciale is lighter, more powerful and is the most extreme road-going Ferrari ever
UPDATE: A new official teaser video of the Ferrari 458 Speciale has been released, giving you a better look at the stripped-out interior and aerodynamic new bodywork.
Protruding from the centre console is an outrageous carbon fibre stalk, which houses the launch control and gearbox functions, while the new lightweight seats are fitted with racing-style four-point harnesses. At the end of the video you can hear the 458 Speciale's screaming V8 engine.
The Ferrari 458 Speciale has been revealed, three years after the Ferrari 458 Italia stormed the supercar class, and it has more power, less weight and advanced active aerodynamics. It follows a line of race-bred specials that include the 430 Scuderia and 360 Challenge Stradale.
Power comes from the same 4.5-litre V8, but peak output has climbed from 562bhp to 597bhp – a 35bhp increase. A specific output of 133bhp per litre is the highest ever by any road-legal, naturally-aspirated engine.
Power is still sent through the rear wheels, and the 0-62mph time is cut from 3.4 seconds to 3.0 seconds flat, while 0-124mph takes just 9.1 seconds. Ferrari claims the 458 Speciale can complete a lap of its Fiorano test circuit in 1 min 23.5 seconds – that's 1.5 seconds quicker than the Enzo and just 0.5 seconds behind the 730bhp F12 Berlinetta.
Weighing in at 1,290kg without fluids, 90kg has been cut from the 458's weight. For now, Ferrari is refusing to go into too much detail about how that's achieved, other than "we worked on any single detail to save grams in every part of the car." Carbon-fibre bucket seats, lightweight wheels, carbon panels and a stripped out interior are likely to be the main contributors.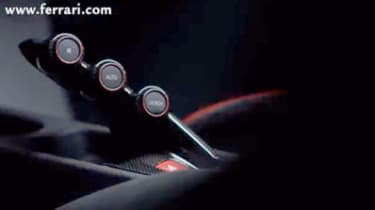 Look closely and the hand-painted racing stripes aren't the only styling changes – the Speciale swaps the 458's smooth surfaces for a more aggressive aero package. At the front, the 458's bendable vanes haven been replaced with two huge air intakes, flanked by a pair of air curtains that smooth the air flow over the front wheels. Further wings on the side sills ahead of the rear wheelarch perform a similar job same at the back.
An all-new bonnet with a cavernous air scoop is fitted, as well as slatted vents either side of the headlights. At the rear the triple exhaust arrangement is swapped for two larger, wide-set pipes above a deeper, wider diffuser. Ferrari has revealed that both the front and rear ends feature moving aerodynamic parts, to "balance downforce and cut drag," something that will become a standard feature on all new Ferraris.
Ferrari has also fitted a new Side Slip Angel Control (SSC) system to the 458 Speciale, which will make for effortless car control. Sophisticated software installed in the car measures lateral acceleration, yaw angle, steering wheel angle and speed and allows the driver to take full advantage of the 458s capabilities by allowing for controllable overstreer.
New Michelin Pilot Sport Cup2 tyres have been developed specifically for this car to boost performance over a single dry lap. Ferrari also claims they deliver more consistent performance in subsequent laps. A new Side Slip angle Control system (SSC) is also fitted for the first time. By working with the traction control and electronic rear differential, it constantly analyses the car's angle of slip, allowing even amateuirs to pull off tyre-smoking drifts safely.
The interior has received a significant overhaul with metal plates instead of carpets to save weight, a more Spartan centre console and less-luxurious, but grippier bucket seats. Rising from the centre console appears to be a carbon-fibre spike with control buttons for the seven-speed dual-clutch gearbox and the launch control function.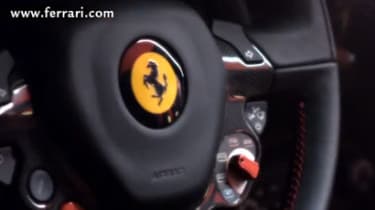 Prices are expected to start from around £205,000 - £25,000 more than the 458 Italia.