Fiat Punto Jet Black
The limited-edition Fiat Punto Jet Black gets 17-inch alloy wheels, black paint and matte black stripes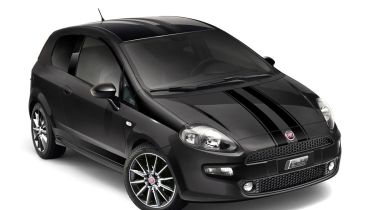 The Fiat Punto is now available as a new Jet Black limited edition, starting from £12,000, and with just 300 examples set to be made.
The Punto Jet Black comes with the same 76bhp 1.4-litre petrol engine available elsewhere in the range, but gets black paint, Jet Black badges, matte black stripes and 17-inch alloys.
Elsewhere, the Punto Jet Black gets a leather steering wheel, automatic climate control, dark tinted privacy glass, electric front windows, rear parking sensors and sports suspension.
"With its distinctive styling, comprehensive specification and affordable pricing, I am sure it will be very popular with younger customers," says Elena Bernardelli, Marketing Director, Fiat Group Automobiles UK. Following an initial deposit of £4,105, the Jet Black is available from £99 a month.