Ford Mondeo's future in doubt as Fusion is axed in US
The long-term future of the Ford Mondeo looks unclear following the news that its US sister model will be dropped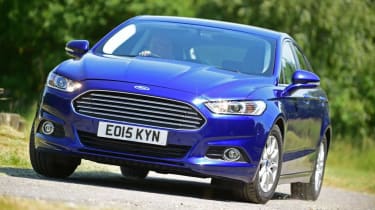 The long-term future of the Ford Mondeo looks increasingly uncertain after the automotive giant announced plans to drop the popular model's sister vehicle - the Fusion - in the United States, and focus on pick-ups and SUVs in that region instead.
The current Mondeo was introduced in 2014 in Europe - and it has survived declining sales partly because of shared components with not only the S-MAX and Galaxy models, but also the Fusion, which has been sold in the US. Indeed, the car was available as a Fusion almost two years before UK customers could buy it as a Mondeo.
However, Ford has revealed that it plans to focus on crossover sales, and specifically states that it will not invest in a replacement for the Fusion. "Given declining consumer demand and product profitability," the firm said yesterday evening in a statement, "the company will not invest in next generations of traditional Ford sedans for North America. Over the next few years, the Ford car portfolio in North America will transition to two vehicles - the best-selling Mustang and the all-new Focus Active crossover coming out next year."
This statement also means that the Fiesta is being withdrawn from the US market, less than a decade after it was introduced there.
A Ford Europe spokesman declined to confirm that a successor to the current Mondeo is in the pipeline but told Auto Express: "The Ford Mondeo remains a core part of our product line-up in Europe. We have upgrades coming for Mondeo later this year which will see new powertrains as well as exterior and interior updates, plus enhancements to the Mondeo Hybrid range. As a whole, this segment is slowing as consumers move towards CUVs [crossovers] and SUVs, but Mondeo continues to deliver on its promise of great driving dynamics, leading technologies and competitive pricing for businesses and families alike."
The updates outlined by Ford's representative will constitute a relatively late mid-life facelift for the Mondeo. But Auto Express understands the future for the car beyond the end of the decade is less certain, given continuing consumer trends towards SUVs, and the efforts made by premium brands such as BMW and Mercedes to tempt fleet customers into their saloons instead of the Ford and its traditional rival, the Vauxhall Insignia.
The decision to not develop a new generation of the Fusion will have a direct impact on the value of a fifth-gen Mondeo to Ford Europe - and one Ford insider told us that the announcement from the United States shows that Ford's recently appointed president and CEO Jim Hackett is "prepared to make bold decisions" if an area of the market is shrinking and the models in that segment are struggling to deliver a return on investment.
Read our review of the Ford Mondeo in Vignale Nero trim…