Series I (1948-1958) buying guide
What to look for in your original series I Land Rover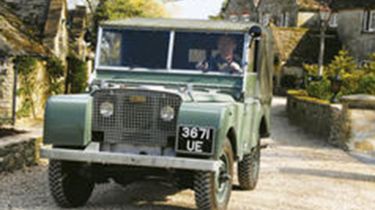 The original Series I had inherent faults which were gradually sorted over the years, so later models are more user-friendly but, the quirks of earlier vehicles are nowadays seen more as character than inconvenience. The 80-inch (1948-53) has the highest values.
Series Is were built initially with an 80-inch wheelbase, and later with the 86-inch and 107-inch, and the 88-inch and 109-inch in station wagon, pick-up and hard top form.  All petrol engines are simple and reliable units. The rare 2.0-litre diesel was lethargic.
Until 1951 the front axle drive was controlled by a freewheel system that automatically engaged drive while the vehicle was moving forward under load, disengaging on overrun. Later vehicles used selectable front drive.
What to check
Detail originality is important, especially on 80-inch models, though minor period modifications add interest. Look for rust in the bulkhead under the windscreen, around the vents (no vents on 80-inch), down the A-posts and the footwells. The 80-inch bulkhead is strengthened by steel laminates and proper repair is difficult, and its aluminium steering box can crack. 
It's worth joining and talking to the Land Series One Club (lrsoc.com) before you buy to confirm originality of engine, transmission and pre-1957 rear (semi-floating) axle. Regular rust areas on the chassis are the rear crossmember and the front suspension dumb-irons. Check leaf springs for compacted rust and flattening.
Reasons to buy
The Series I is vintage machinery, and its relatively primitive engineering is robust. There's a purity about off-roading a SI – old-school terrain skills reward the driver. Buy for the vintage experience and for a piece of motoring history that is mostly DIY approachable.
Problems
Don't expect to keep up with the traffic, and be prepared for a bumpy and twitchy road ride – though this is part of the fun of driving. Weather resistance and warmth are fairly absent, though this doesn't matter. Some parts are difficult to find and costly.
Specifications
• 1948-1951: 1.6-litre four-cylinder petrol, 55 bhp, 83 lb-ft torque. Four-speed manual, two-speed transfer box with permanent four-wheel drive (to 1950), later selectable.• 1951-1958: 2-litre four-cylinder petrol engine, 52 bhp, 101 lb-ft.• 1956-1958: 2-litre four-cylinder diesel, 52 bhp, 87 lb-ft torque.
Price guide
Project: £2000 – £5000Average: £4000 – £6500Good: £6000 – £15,000Excellent: £15,000 – £50,000+