McLaren P1 GTR: when a 903bhp McLaren isn't hot enough
First official sketch of extreme track-only McLaren P1 GTR officially revealed, the car produces 986bhp and costs £1.98m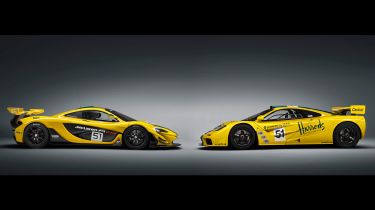 The first official image of the new McLaren P1 GTR has been released. Pitched as a faster, more focused and track-only version of McLaren's P1 hybrid hypercar, the GTR will cost £1.98m and production begins next year.
The car is all set to make its debut at the 2014 Pebble Beach Concours d'Elegance on August 15 and will go into production in June 2015, after all 375 examples of the standard P1 road car have been built. Following in the footsteps of the McLaren F1 GTR from 20 years ago, the P1 GTR features a far more aggressive aero package with a massive fixed rear wing and race-spec diffuser. Wider wheel arches, side skirts and track should also boost downforce and cornering grip.
• What is the world's fastest car?
Two huge exhausts pipes and bigger wheels wrapped in slick tyres complete the body modifications, but there are serious changes under the skin, too. While the standard P1 produces a combined output of 903bhp from its 727bhp 3.8-litre twin-turbo V8 and 176bhp electric motor, the GTR produces a massive 986bhp. Combine that with a kerbweight expected to be less than the P1's 1,400kg and a 0-62mph time in the region of 2.5 seconds is possible. Exact numbers for the production run haven't been specified, but it's believed you have to be an existing P1 owner to even be allowed to buy one. Do so and you'll become part of the GTR programme which includes a series of dedicated track days around the world, and access to the F1 team's simulators and fitness instructors.
Read our review of the standard McLaren P1 here.