Smart motorways: could the controversial roll-out be halted again?
Transport Secretary says latest parliamentary report 'made a lot of great points'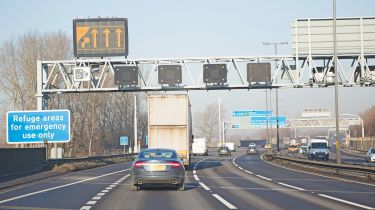 Another pause in the roll-out of smart motorways could be announced in the New Year, after the influential parliamentary Transport Select Committee called for a five-year halt so more safety data can be gathered.
The DfT has pledged to engage fully with the committee's views, and Secretary of State Grant Shapps has told the Daily Mail he'd be "carefully studying" a report that "made a lot of great points".
While the lack of an immediate response will likely anger campaigners calling for smart motorways to be scrapped, the Mail has also reported that National Highways officials may have advised that leaving certain sections of smart motorway coned off and unfinished would be the worst of all outcomes from a safety perspective.
"We welcome the Transport Committee's scrutiny and will now consider its recommendations in detail, providing a formal response in due course. This is a serious piece of work which we will engage with closely in the months ahead," a DfT official statement said.
"We're pleased that the TSC recognises that reinstating the hard shoulder on all all-lane running motorways could put more drivers and passengers at risk of death and serious injury and we're right to focus on upgrading their safety, as the Secretary of State committed to doing when he became Transport Secretary.
"We recognise that improvements have not always been made as quickly as they could have been in the past, but as the committee has set out, the Transport Secretary is absolutely committed to making Smart Motorways as safe as possible, including committing £500 million on upgrades and the faster rollout of Stopped Vehicle Detection."
As well as the five-year pause to gather more data, the Select Committee called for an end to all-lane running on the hard shoulder in the hours of darkness, and new rules for drivers to clear an emergency lane when stuck in stationary traffic. The Transport Secretary has already halted the smart motorway programme once this year, so safety claims could be investigated.
What does the Transport Select Committee report say?
The Transport Committee report on smart motorways calls for a number of measures to improve safety. One of these is for the rollout of all-lane running to be halted for five years in light of a lack of safety and economic data.
The select committee wants the emergency corridor manoeuvre to be added to the Highway Code. This would require drivers in standstill motorway congestion to pull to the side of the road, leaving a gap for emergency service vehicles to pass through. Such a manoeuvre is already a legal requirement in some countries, but not the UK.
National Highways has already committed to ensuring all new stretches of all-lane-running 'smart' motorways, which have no hard shoulder, are fitted with emergency refuge areas (ERAs) no more than one mile apart at any point and 0.75 miles apart wherever possible. The Transport Committee has now called for these same measures to be taken on the existing smart motorway network, with ERAs retrofitted at these same intervals.
The committee also argues that one lane of all-lane-running motorways should revert to being a hard shoulder between 7pm and 7am to mitigate the impact of live-lane collisions at night.
The Office for Rail and Road should be commissioned to conduct an independent evaluation of the effectiveness and operation of the stopped-vehicle technology being rolled out across the network, the committee adds.
The committee also wants to see the Office for Rail and Road evaluate the Department for Transport and National Highways' progress on smart motorways from 2022, particularly regarding response times for live-lane breakdowns and driver education.
Commenting on the report, AA president Edmund King said: "This is a pragmatic report, which reflects many of the actions we had been calling for. We have campaigned consistently for ERAs at least every three quarters of a mile and have been pushing for a rapid retrofit programme. The committee also takes up our proposal for all-lane-running schemes to revert to the hard-shoulder between 7pm and 7am to avoid confusion and to offer a refuge to counter live lane collisions that happen at night.
"We also called for better evaluation of the stopped-vehicle-detection technology and questioned why it hadn't been fitted before schemes opened. The report reflects our view that controlled motorways with a hard shoulder are the safest option and that the business case for these should be examined.
"The AA called for a new Highway Code rule in 2017 to create an emergency corridor in stationary traffic to allow emergency services access to incidents on motorways where there is no continuous hard shoulder. We are pleased that the committee has endorsed that call and we are already working with National Highways on this matter.
"We hope that the Government will respond quickly to these recommendations so that action can be taken to improve the safety of smart motorways and the public's perception of these roads."
Smart motorways background
The DfT previously conducted an "evidence stocktake" into smart motorways, which resulted in dynamic smart motorways - where the outer lane can switch between being a hard shoulder and a live running lane - being abolished.
All-lane running smart motorways, which do not have a hard shoulder, were kept with a commitment to place emergency refuge areas three-quarters of a mile apart where possible, and no more than one mile apart on any new stretches of smart motorway.
Highways England has also committed to installing SVD technology on all stretches of smart motorway. At present, drivers whose cars break down in a live lane without SVD have to wait for a CCTV operator to spot them before the lane is closed.
Do you think roads are getting more dangerous? Let us know your thoughts in the comments below...