Yorkshire Motorsport Festival 2021 to feature Palmer Foundation Engineering Village
The Palmer Foundation's presence at the 2021 Yorkshire Motorsport Festival will give British engineering and motorsport firms a platform and showcase career opportunities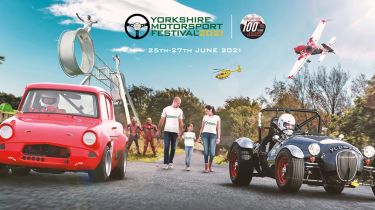 The Palmer Foundation has been named as a presenting partner of the Yorkshire Motorsport Festival 2021, where the charity will stage an 'Engineering Village' to create a platform for British automotive firms and showcase career opportunities.
The foundation was set up earlier this year by former Aston Martin CEO Andy Palmer to work with young people - particularly those from disadvantaged backgrounds - as they make their GCSE choices, offering them advice and help in relation to automotive industry apprenticeships.
The Palmer Foundation Engineering Village will feature products and expertise from a variety of British automotive engineering and motorsport firms, giving them access to a large trade audience.
A number of universities and colleges offering specialist engineering and motorsport-related courses - including the University of Bolton, Cranfield University, Harper Adams University and Askham Bryan Colleges - will also be in attendance to give young people insight into automotive careers, as well as show off their Formula Student cars.
In total, up to 50 UK motorsport and engineering companies will be present at the village. One of these is Pilbeam Racing Designs, which has been in business for more than 40 years. The event will see some of Pilbeam's hillclimb cars on display alongside the Wolfstones Speed Hillclimb, which is the centrepiece of the event.
Michael McErlain, joint managing director of the Yorkshire Motorsport Festival, said: "We are both proud and tremendously excited to launch the Palmer Foundation Engineering Village at the 2021 Yorkshire Motorsport Festival.
"The area is a hotbed of motorsport and having a feature dedicated to the trade and industry of the sport we love gives the Festival a further dimension. If the enthusiasm and support that we have received already is indicative of what is to come, we will have started something rather special here.
"Then to have someone like Andy Palmer becoming involved is a real coup for us - I am truly thrilled about it. His help is already proving incredibly valuable and his faith in the project as a whole speaks volumes for what we are looking to achieve."
The Yorkshire Motorsport Festival 2021 will take place from 25 to 27 June in Holmfirth, West Yorkshire.
Click here to read our in-depth review of the new Aston Martin DBX SUV...