'Andy Palmer's legacy at Aston Martin is its best-ever line-up'
Editor-in-chief Steve Fowler praises Andy Palmer's work at Aston Martin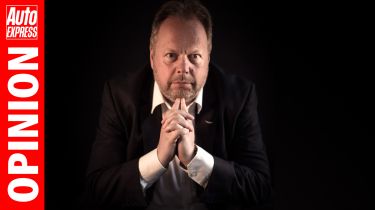 It's a tough, and sometimes cruel, business. But the news of Andy Palmer's departure from Aston Martin was greeted with sadness, if not surprise. The very fact that the company and its products are in a much better place than when he joined in 2014 is testimony to the guy's brilliant leadership. Palmer's been fighting battles since he joined and, ultimately, economic headwinds that nobody could possibly have predicted have led to his downfall.
Luck has not been with him, and new chairman Lawrence Stroll is obviously keen to make his mark and appease his own backers. Since Palmer's departure was announced, I've been contacted by a stream of owners who are united in saying two things: he has led a transformation of Aston's product line-up, and he had a relationship with owners that no previous Aston CEO – or CEO elsewhere – has had.
He came on board and instantly made the DB11 better than it was set to be. The new Vantage is the closest Aston – and others – have got to the Porsche 911. Halo models and a revitalisation of the firm's classics business kept his company in the headlines. And the crucial new DBX – I've had the privilege of driving a prototype – is sensational.
Former Mercedes-AMG boss Tobias Moers has the unenviable task of following Palmer as Aston CEO. His track record at the German giant is hugely impressive, as is his reputation for fighting his corner with his passion for fast cars to the fore. He's a real petrolhead. He's got a tough job, for sure, but first he has to get to know Aston Martin and, crucially, engage with existing and future owners. The company's financials may not be in great shape, but the product line-up and workforce are.
As for Palmer, we wish him well. He'll be in demand, we know. And he can take great pride in, and credit for, his tenure at Aston Martin. He put his heart and soul into trying to make Aston great again, and that's exactly what he achieved.