Private parking firms want to start clamping again
Cowboy clampers could make a comeback if the Government grants private clamping firms' requests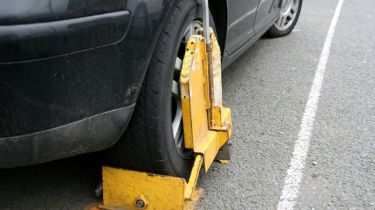 Private parking firms are pushing for the right to clamp and tow motorists' cars on private land - a practice that was banned in 2012 when it was shown that some firms were charging excessive release fees.
The Government is currently in the process of drawing up a new code of practice for private parking operators to follow and a number of consultations with the industry have taken place with regards to this. In their responses to the consultation, it has now been revealed that scores of firms have requested the return of clamping.
According to the AA, private parking firms told the British Standards Institution that fines are not enough to deter drivers from parking illegally on private land, arguing that clamping and towing need to make a comeback.
Firms have also requested that the appeals process be removed from drivers who haven't updated their address with the DVLA (Driver and Vehicle Licensing Agency), meaning that motorists who make an innocent mistake would be unable to appeal if they had recently moved house, for example.
Clamping on private land was outlawed eight years ago following a lengthy campaign by the AA, but the practice still occurs at places such as train stations and airports due to existing by-laws.
The AA has now asked the Ministry for Housing, Communities and Local Government for assurances that private clamping and towing will not return. In addition, the organisation is calling for a simple fining system, a 50 per cent discount for fines paid early, an independent legal appeals service, a surcharge on drivers' information obtained from the DVLA by private firms to pay for appeals, and a Government investigation into parking charge hotspots.
Edmund King, president of the AA, said: "Clamping is an abhorrent practice that we thought was long gone, but clearly the intent from some parking firms has never gone away.
"Cowboy clampers want to corral the wagons again. Horror stories of days gone by of enforcers requesting gold teeth in lieu of payment, clamping a hearse with the corpse in the back, holding a young child hostage until extortionate payments are made and other disgraceful acts, could be just around the corner.
"This now brings us to a duel at High Noon. Clamping cannot return under any circumstances. The Government has the chance to stop rogue firms in their tracks. We hope they do so quickly and forcefully.
"We also need a simplified and transparent private parking system with a totally independent appeals service so that there is no chance of cowboy parking companies acting as judge and jury."
Check out our handy guide to avoiding keyless car theft...