Fewer than half of UK drivers know the rules of smart motorways
Research also shows a quarter of drivers don't know what a smart motorway is; motoring groups call for increased public awareness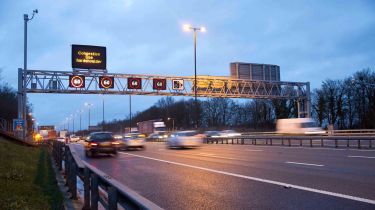 Fewer than half of British drivers know what the rules are on smart motorways, a new study has revealed.
A survey of 2,010 UK motorists found that 75 per cent know what a smart motorway is, but only 48 per cent are aware of the rules that apply to them. Even more worryingly, 25 per cent know neither what a smart motorway is nor what the rules are.
England is currently the only part of the UK that has smart motorways. When the survey results are whittled down to just those from English respondents, though, the results aren't much better - 77 per cent know what a smart motorway is, 52 per cent know the rules for driving on one and 21 per cent don't know what they are at all.
The survey - which was commissioned by road safety charity Brake and breakdown company Green Flag - also found 78 per cent of drivers leave a two-second gap between themselves and the vehicle in front when driving on a motorway, as mandated by the Highway Code, but 18 per cent admit to not doing this.
Furthermore, only 26 per cent of respondents could correctly state that a car needs 96 metres - or roughly 24 car lengths - to stop from 70mph, with 63 per cent wrongly thinking the distance to be less than this.
The Department for Transport recently undertook a stocktake of smart motorways. This resulted in dynamic smart motorways - where the outermost lane could switch between being a hard shoulder and a live lane depending on the sign shown above it - being axed in favour of a permanent all-lane running model.
The stocktake also doubled the funding for public awareness and what to do in a smart motorway emergency to £10 million. Brake and Green Flag say their research reinforces the need for this investment.
Joshua Harris, director of campaigns at Brake, said: "These important findings confirm what we all suspected - drivers are confused about the rules of driving on smart motorways and communication efforts must urgently be stepped up to help avoid more tragic incidents on these roads.
"We welcome the measures the Government has outlined to improve smart motorway safety and urge them to follow this evidence-led approach for all UK roads. With more than 75 deaths and serious injuries on our roads every day, improving road safety must be a priority for this Government."
Damon Jowett, head of service delivery at Green Flag, added: "Motorways are a vital part of the UK's infrastructure and are widely used by drivers across the country every day, and so the debate around smart motorways is an ongoing one.
"While the smart motorways system allows for drivers to get to their destination more easily, understanding of the rules is paramount to ensure road safety. Our latest report has highlighted concerning gaps in driver awareness, and here at Green Flag, we want to help increase driver awareness for motorway driving to ensure these roads are as safe as possible."
What do you think of smart motorways? Let us know in the comments below...