Plug-in Car Grant cut from £3,000 to £2,500
Government will provide up to £2,500 towards electric cars costing up to £35,000 as it refocuses funding on more affordable EVs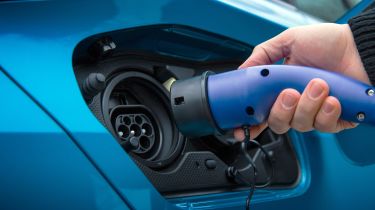 The plug-in car grant has been cut from £3,000 to £2,500, effective immediately. The grant is now only available on electric cars costing up to £35,000.
The Department for Transport (DfT) says the number of EVs costing less than £35,000 has increased by almost 50 per cent since 2019 and that more than half of electric cars currently on the market will still be eligible for the reduced grant. It adds that this includes "spacious family cars".
The grant is now targeting less expensive models, the DfT says, as drivers purchasing cars worth more than £35,000 can afford to do so without Government subsidy.
Nearly 11 per cent of new cars sold in 2020 had a plug, compared with three per cent in 2019. The plug-in car grant was renewed last year, with the Treasury allocating £582 million to last until 2022-23.
The grant was originally introduced in 2011, with the Government having handed out £1.3 billion of funding since then. This has supported the purchase of 285,000 vehicles.
The Government has indicated in the past that the grant would be reduced over time, although financial support for electric vehicles will continue through tax incentives, such as lower VED (road tax) and Benefit-in-Kind company car tax.
The DfT added that as the EV market develops further, it expects to see a reduction in vehicle prices as the cost of batteries also drops.
Transport minister Rachel Maclean said that "increasing choice of new vehicles, growing demand from customers and a rapidly rising number of chargepoints" meant the Government was refocusing its grants on more affordable zero emission vehicles "where most consumers will be looking and where taxpayers' money will make more of a difference".
She added: "We will continue to review the grant as the market grows."
Mike Hawes, chief executive of the Society of Motor Manufacturers and Traders (SMMT), said it was "the wrong move at the wrong time".
"Cutting the grant and eligibility moves the UK even further behind other markets, markets which are increasing their support, making it yet more difficult for the UK to get sufficient supply," he said. "This sends the wrong message to the consumer, especially private customers, and to an industry challenged to meet the Government's ambition to be a world leader in the transition to zero emission mobility."
Take a look at the best plug-in hybrid cars you can buy now...