Former Ford development boss, Richard Parry-Jones, dies
Richard Parry-Jones dies at the age of 69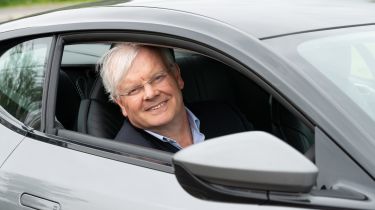 Richard Parry-Jones, former Group Vice-President-Global Product Development, Chief Technical Officer and Head of Global R&D Operations at Ford, has died at the age of 69.
Born in Bangor, North Wales, RPJ, as he became known, joined Ford as an undergraduate trainee in 1969, going on to earn a first-class honours degree in mechanical engineering from Salford University.
From the mid-nineties, Parry-Jones led the development teams responsible for some of the greatest cars in Ford's history, including the original Ford Mondeo and Focus, the Ka and the Puma. Parry-Jones' focus on a car's dynamics won an army of fans from enthusiasts to car buyers, lifting Ford's reputation for building great driving cars to a new level that still stands true today.
Parry-Jones' influence extended to models from Jaguar, Land Rover and Aston Martin, while they were part of Ford's Premier Automotive Group. His success at Ford led to rival car makers having to up their game to compete, while it's rumoured that Volkswagen boss Ferdinand Piëch tried to poach Parry-Jones to head up the German company's development teams.
On retiring from Ford in 2007 after 38 years, Parry-Jones worked at Government level chairing the Automotive Innovation and Growth Team and then the UK Automotive Council. In 2012 he became chairman of Network Rail, a position he kept for three years.
Most recently, he has been Chairman of UK automotive retail group Marshall Motor Group. Speaking to Auto Express, Marshall CEO Daksh Gupta said, "We're all devastated at Marshall. Richard was a very well-respected, popular and influential figure in the automotive industry.
"From a personal perspective he was not only an exemplary chairman, he was a great mentor and friend to me. I feel privileged to have known him personally.
"We at Marshall were fortunate to have him as our chairman - we will miss him enormously. It's a tragedy that we at Marshall and the wider industry have lost him so soon."
Society of Motor Manufacturers and Traders Chief Executive, Mike Hawes, commented on social media: "Really sad news. Immense career and unrelenting commitment to engineering and the auto industry. Inaugural chair of the Automotive Council is just one of his legacies along with some exceptional products that are the result of his expertise. Lovely man with time for everyone."
It's understood that Parry-Jones passed away in the morning of Friday April 16 in an accident involving a tractor on his farm in Wales.
Everyone at Auto Express sends their deepest condolences to Richard's friends and family – he will be deeply missed.