Is now the right time to buy an EV? Listen to the Auto Express podcast Nissan electric vehicle special
Vicki Butler-Henderson and the Auto Express podcast team discuss the past, present and future of EVs with Nissan's James Bird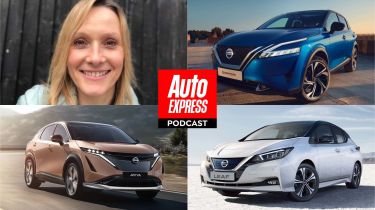 Advertisement feature from

Nissan has more than a decade's worth of experience in the electric vehicle space following the launch of the LEAF back in 2010. Despite the LEAF's longevity and continued popularity, the car giant isn't resting on its laurels – the Qashqai is now available with a mild hybrid powertrain, and will soon launch with an e-POWER hybrid powertrain. Plus, later this year sees the opening to order for the all-electric ARIYA.
The latter, due to arrive in the summer of 2022, is Nissan's all-new all-electric crossover designed from the ground up. Its sleek design, haptic controls and up to 310-mile range[1] represents a big step forward as Nissan aims to electrify all vehicles in its key markets by 2030.
But with so much focus on electrification, is now the right time to be buying an EV? Speaking exclusively on the Auto Express Podcast, Nissan's EV section product manager, James Bird, explained that it's important for consumers to understand their driving profile before making the switch.
"What is your mileage? Do you have off-street parking? Are you able to charge at home? And if not, do you have knowledge of the charging network around you?" he said of the questions drivers needed to ask.
"The latest breed of new EVs, if you look at ARIYA for example, how far they can go, the performance capability, they can tow, they can go off-road – they're starting to chip away at all of the previous hesitation points that people may have had," Bird noted.
Join Vicki Butler-Henderson, Steve Fowler and Bird to hear about all this and more as they discuss the past, present and future of Nissan electric in this special edition of the Auto Express Podcast.
Download a free guide for more on electrified vehicles.
[1] 310-mile range based on 87kWh battery. Figures pending final homologation. WLTP cycle pending official homologation in 2021. WLTP figures shown are for comparability purposes. Actual real world driving results may vary depending on factors including the starting charge of the battery, accessories fitted after registration, weather conditions, driving styles and vehicle load.
ProPILOT and e-4ORCE technologies are available on selected models, grades and powertrains
ProPILOT is an Advanced Driver Assist technology but cannot prevent collisions. ProPILOT is intended for "Eyes on/Hands On" for highways only (road separated by barriers). It is the driver's responsibility to stay alert, drive safely and be in control of the vehicle at all times. For more information, please refer to the owner's manual or visit www.nissan.co.uk/techterms.