Liz Truss could axe mandatory motorway speed limits as PM
Liz Truss suggests she is "prepared" to look into scrapping mandatory speed limits on motorways as prime minister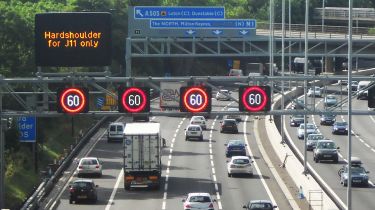 The favourite in the race to be next prime minister of the United Kingdom is open to the idea of removing mandatory limits on the country's motorways. 
At the final 'hustings' debate before votes are cast to decide the Conservative party's new leader and thus the UK's next prime minister, Liz Truss was asked by a Tory member if the front-runner would remove limits on motorways and let drivers decide a safe speed for themselves. 
Truss, who is well ahead of former Chancellor of the Exchequer Rishi Sunak in leadership race polls, appeared to take the suggestion seriously. She replied: "On speed limits, we need to be prepared to look at that...I can't give you a precise answer."
Such a move would give the UK's motorways a similar setup to the German autobahns, which famously lack mandatory limits in places. However, there is still an advisory limit of 130km/h (80mph) on these sections. The approach to speed limits on the autobahn has been under increasing debate in recent years - surveys show the majority of Germans are now in favour of a blanket mandatory limit. As the Green Party and the Free Democrats formed a coalition government last year, it was thought the former's manifesto to bring in such a thing might be acted on, but ultimately this didn't happen.  
Meanwhile, in the UK, the government proposed an increase of the motorway's 70mph limit to 80 in 2011, only to abandon these plans for fears of increasing emissions. In 2019, Transport Secretary Grant Shapps brought up the 80mph limit again, suggesting that widespread adoption of electric vehicles and thus a lowering of emissions could make it feasible to increase the limit. Truss herself also touted the idea of a higher limit at the 2018 Conservative Party Conference. 
Also debated at hustings was the UK's smart motorway network, which Truss pledged to scrap should she emerge as the leadership contest's winner. "I do believe that the smart motorway network experiment hasn't worked," she said. 
Check out our list of the World's fastest road cars...