"Our new real-world test is the most comprehensive car review you'll find"
Editor-in-chief Steve Fowler thinks our new road test format is the best way of comparing two vehicles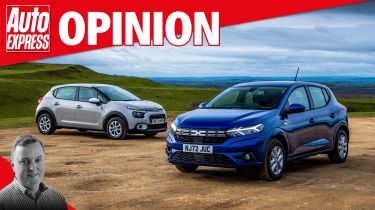 We keep hearing that it's harder than ever to find a really good-value new car – and that a mixture of in-car technology and more efficient engines (not to mention electrification) is threatening to drive prices up further still.
So we're particularly pleased that this week marks not only the debut of our new-format road test, but also a head to head between two cars that cost a smidgen less than £14,000. New.
Starting with big-value cars from Dacia (the updated Sandero) and Citroen (the new C3 You!), our real-world test provides you with even more of the detailed info you need when the time comes to choose your next new car, and in a more easy-to-use format.
We started by analysing what the most important factors are to you when you're buying a new car – and how they differ, depending on the type of car you need. We've broken down on-road behaviour into key scenarios – town driving, motorway miles and so forth – allowing you to focus on the driving you do most. There's more detail on what you get for your cash and which trim levels make most sense (and which don't). We also list alternatives beyond the cars featured: a rival from the same class, a different type of vehicle you can get for the same cash, and potential bargains from the used market.
Our table of costs – the crunch point for so many of us when picking a car – has been revamped to better reflect the fact that most private buyers don't actually buy the car anyway; they stick it on a finance deal. So we illustrate three-year figures to show you not only the overall difference between the models on test, but also a breakdown of which car is better and worse in the key areas: finance payments, deposit, fuel bills, and even insurance.
The end result is a test that, we think, is the most comprehensive means of comparing two vehicles that you'll find.
You'll find the online version of our first all-new real-world test here, but you'll need to buy this week's Auto Express for the full version with all the extra analysis...