UK driving licence penalty points explained
Commit a motoring offence and you could get penalty points on your licence. We explain how they work...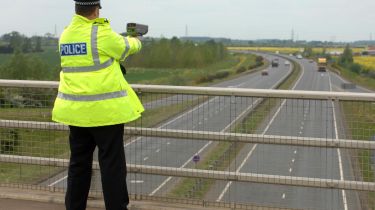 Penalty points can be added to your driving licence if you break the law on public roads in the UK. Different offences carry different penalties and if you collect enough points over a specific time period, it can result in a driving ban.
If you commit a motoring offence then you may receive a fixed penalty notice or be prosecuted in court. Both can result in points on your driving licence. A fixed penalty is generally used in clear-cut cases, for example speeding caught via a camera, to save time when prosecuting. If you receive a fixed penalty notice, you've still broken the law but won't have to go to court.
Points are applied to driving licences as a way of preventing dangerous drivers from using the roads. If your licence builds up more than 12 penalty points then you can be disqualified from driving for up to three years.
Fewer points are required for new drivers to get a driving ban: if you passed your test fewer than two years ago then the limit is six points, and there's a chance of having your licence revoked altogether.
Penalty points stay attached to your driving licence for either four or 11 years, depending on the offence.
What do you get points on your licence for?
There are lots of different motoring offences that can lead to you getting points on your driving licence. You can see all of them on the UK Government website.
The most common reasons for getting points are for speeding, driving without due care and attention, using a mobile phone, driving while disqualified, and drink or drug-driving offences.
Some other offences to be aware of include leaving the scene of an accident (5 to 10 points), using a vehicle with defective brakes, tyres or steering (3 points), driving an uninsured vehicle (6 to 8 points) and parking in a dangerous spot (3 points).
After committing one or more of these offences, authorities will decide on the amount of points based on the guidelines, and then these will be attached to your licence record in the national database.
How many points lead to a driving ban?
If you get 12 or more penalty points within three years, you can be banned from driving. Points for most offences last for four years, so it's sometimes possible to have more than 12 points but still be allowed to drive if the offences are spread out.
The amount of time you are banned for is decided on by the court. The normal ban for having more than 12 points is six months. This is doubled to 12 months if you get a second driving ban within three years, and doubled again to 2 years if there's another disqualification within three years.
Some points stay on your licence for 11 years: those for drink or drug driving, or causing death by careless driving.
How do driving bans work?
If you do get a driving ban as a result of a motoring offence, you may need to retake your driving test to get back on the road. This is decided on by the court on bans longer than 56 days. At the very least you'll have to apply for a new licence after a six-month ban via the points system.
If you get six or more penalty points within 2 years of passing your test, you can have your licence revoked. This means you'll have to get another provisional licence and take new theory and practical tests before driving again.
How do you find out how many points are on your driving licence?
As there's no longer a paper element to your driving licence, you need to check online to see your penalty points. Log-in to the UK Government website with your licence details and National Insurance number to find out how many points are on your licence.
Can you avoid or remove points from your driving licence?
There's no way to remove points from your licence, aside from waiting until they expire automatically. It takes four years for most offences, and 11 years for the more serious ones. When the time is up the points will be removed from your licence automatically without any action from you.
If you get caught for speeding for the first time and the speed you were going wasn't way over the limit for the road you were on, you may be given the opportunity to attend a speed awareness course instead of getting points on your driving licence. You will still have to pay the fine, however.
What do penalty points mean for my car insurance?
There's no doubt about it: your car insurance will be more expensive if you have points on your licence. In fact, your premium can go up if you are convicted of any motoring offence, even if no points are added.
You need to tell your insurer about any motoring convictions because if you don't, your insurance will be invalid. This could mean you end up with even more points for driving without insurance - and if you have an accident then you won't be covered.
Click here for tips on how to save money on your car insurance...