DHL shuns VWs in favour of building its own electric vans
The move has reportedly irritated the manufacturer, which previously supplied the service with diesel Caddy vans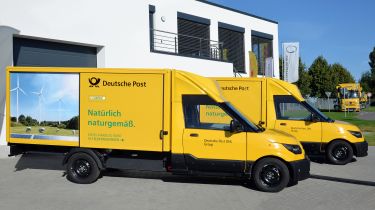 Volkswagen is said to be 'annoyed beyond measure' as Deutsche Post DHL has announced plans to increase production of its own line of electric delivery vans. Deutsche Post has a partnership with electric vehicle manufacturer StreetScooter, which produces a line of electric delivery vans for inner-city use.
Volkswagen Chief Executive Matthias Muller was said to be irritated by Deutsche Post's decision to phase out his company's diesel Caddy vans in favour of these electric models. Reuters quotes him as saying "I am annoyed beyond measure. I, of course, ask myself why Post did not talk to our VW Commercial vehicles division about doing something similar."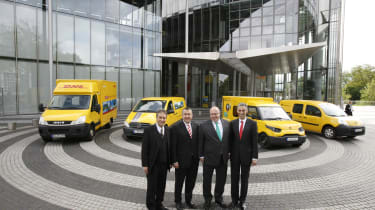 DHL paints a different story, though, claiming its requests to vehicle manufacturers for a dedicated electric van were rejected. This is why the company has chosen to go it alone and make use of the StreetScooter vehicles.
The StreetScooter vans make use of a vast supplier network, using a dedicated program to co-ordinate these separate suppliers to produce the vehicles. The end product is a cost-effective electric van, capable of up to 75 miles on a charge with a top speed of just over 50mph.
Deutsche Post already has 1,000 of these vehicles on the road, and has recently increased production capacity to 5,000 units a year - with potential for more.
However at the recent IAA Commercial Vehicle Show in Hanover Deutsche Post and Streetscooter announced a larger model – the StreetScooter Work L, with double the carrying capacity of the smaller model. Deutsche Post DHL aims to have 170 of the larger vehicles on the road by the end of the year.
But the company isn't ending there, and is currently deciding whether to sell the StreetScooter vans on the open market.
Do you think the postal service in the UK should use electric vans? Let us know in the comments below...