How to choose the best car roof tent 2018
Looking for shelter to strap to the roof of your car? Here's our buying guide to the best car roof tents
Roof tents for cars first originated in Australia a couple of decades ago, and they've been a fixture on many an Aussie SUV since. In more recent times, car roof tents have entered the market in Europe and North America, and they are steadily growing in popularity.
It's easy to see why they became so ubiquitous in Oz: a country where camping offroad at ground level will bring you into unwanted contact with all manner of reptiles and insects. These are the sorts of animals you don't see on British shores, and is largely the reason that car roof tents tend to divide opinion among outdoorsy types - some view them as flashy and needless. Cheap, they're most certainly not. But those who have invested in a car roof tent tend to say they wouldn't dream of hitting the road without it strapped to the roof rack.
A big part of this comes down to sheer convenience: you might think erecting a tent on the roof of your car will be real hassle - but in actual fact, once they're up there, opening them is remarkable easy and straightforward. Some car roof tents open themselves with a turnable crank handle, others with a series of clasps and straps. Some even use electric motors, with manufacturers claiming their roof tents will be ready to go in a matter of 30 seconds.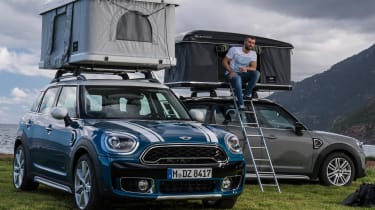 But convenience comes at a price, and one thing you can be assured of: car roof tents cost a good deal more than the average tent of the same size. So it's worth giving thought to whether they are right for you. Read on to find our more about roof tents in our buying guide below, before finding our round-up of some of the very best currently available.
What camping situations are right for a car roof tent?
As mentioned before, these were originally developed for camping in a places where it is a good idea to be sleeping several feet above ground level. So think ahead to situations where you might be going intrepid with your vehicle: perhaps in hotter, drier countries; perhaps in places where the ground is too dry or too wet to properly pitch a tent with pegs and guy ropes.
They're certainly not intended for campsites, since you'll always be given a berth with enough space to pitch a tent. But what about if you're camping with a large group? You may well find yourself grateful to be able to pitch a tent in that extra space - perhaps some kids you'd like to leave to their own devices. (That said, we suggest ringing the campsite ahead of your stay to check their policy on roof tents, in case you incur any unexpected costs.)
Then there's wild camping, which is legally permitted in Scotland - should you want to head offroad and not worry about where you stop for the day, a roof tent will definitely come in handy. And, finally, there's simple convenience. After a day's hiking or trekking, the thought of avoiding all the fuss of threading camping poles and pushing pegs into soil probably sounds very appealing.
What should I consider before buying a car roof tent?
First and foremost, its size and capacity. How many people will be camping? Don't think you'll be restrained by the dimensions of your car roof, since lots of tents overhang with the aid of stilts and have the potential to get surprisingly large. Nor do you need to worry about having to pole-vault up to your tent - each one available comes with a stepladder to grant you access.
But, as with all tents, always take the advertised capacity with a pinch of salt. If it's a two-person tent, prepare for the fact that you and your partner might be packed in like sardines; equally, if there's three of you, a four-person tent is unlikely to be an extravagant purchase.
You'll also need to give thought to your budget, and how much you're willing to spend. As mentioned, you'll need to prepared with parting with a sizeable lump of cash - car roof tents tend to retail at anywhere between £750 and £2,000. One thing that affects price is whether you get a hard-shell or soft car roof tent. Hard-shell tents are those contained in a hard fibreglass casing - any while they cost more, in the long run, your tent will be better protected against the elements when not in use.
How do tents attach to the roof of a car?
You'll need to have a roof rack in place in order to fix the roof tent to your car, as most roof tents are designed to be attached to a set of crossbars spanning the width of your car roof. But beyond that, roof tents are highly adaptable as it wouldn't suit manufacturers to be too prescriptive about
Read our list below for some of the best car roof tents available right now...
TentBox Hard Shell Roof Tent
Price: £1,745Capacity: Two peopleDimensions: 214 x 125 x 30cm (closed) | 214 x 125 x 100 cm (open)Weight: 70kg
TentBox's car roof tent is of the hard shell variety, so the canvas is protected from the elements inside its fibreglass casing when not in use. The tent itself is layered with a soft flannel and insulated with sponge, while the base has a layer of memory foam bedding to give you added comfort while you sleep. Better still, your bedding can be stored inside, so there's no need to pack your sleeping bags away separately. It has a series of straps that let you to open it in the space of 30 seconds, and there's a door on either side, so you can set up the aluminium ladder at whichever is most convenient. There are also unzippable windows - with flyscreens, fortunately, to keep those buzzing intruders out. As this is a tent that won't open up any larger than the width of your car - 125cm, to be exact - you can be sure that this is for two people at the very max.
Buy the TentBox from Amazon here
Ventura Deluxe 1.4 Roof Top Tent
Price: £799Dimensions: 150×125×30cm (folded) | 240×143x126cm (unfolded)Capacity: Three peopleWeight: 50kg
Ventura certainly pride themselves of this tent's durability in the face of Mother Nature: they say the Deluxe is 'capable of withstanding extreme conditions, from minus 27 degree, midwinter weather, to altitudes of more than 3,000m and the heat of Morocco.' The tent itself is made of an oxford cloth canvas that's 100% waterproof, breathable and UV-resistant, while the base is made of lightweight aluminium. Atop that is a two-inch, high-density foam mattress. The opening mechanism unfolds the tent in a matter of second, which extends over one side of your vehicle, freeing up more space for the three sleepers it can accomodate. (Take note: there's also a model available with an annex, for £899.) A heavy-duty waterproof cover is included, for you to protect it while it's not in use.
Buy the Ventura from Amazon here
Smittybilt
Price: £1,950Dimensions: 142.2 x 25.4 x 121.9cm (closed) | 142 x 129 x 241cm (open)Capacity: Two to three peopleWeight: 62.6kg
It might sound like an item you'll find in the Ikea catalogue, but the Smittybilt is, in fact, a capacious car roof tent that's made of rip-stop polyester (if it tears, the tear won't grow any bigger) and is a bolstered by a set of anodised aluminium poles. Inside the opened tent, you'll find a 6cm foam mattress and an interior lit by a series of LED striplights for convenience. The makers advertise it as sleeping two to three people, which might sound a little circumspect - but since it opens up and extends over the roof of the car (unlike the two-person TentBox, for example), three people shouldn't be an issue here.
Buy the Smittybilt from Amazon here
Direct 4x4 King Size Expedition Roof Tent
Price: £1,208Capacity: Four peopleDimensions: 120 x 180 x 29cm (closed) | 240 x 180 x 130cm (opened)Weight: 74kg
By car roof tent standards, this one's practically palatial. Not only does this tent from Derby-based Direct 4x4 provide sleeping space above your vehicle, but also has an annexe that drops down to rest along the side of your car. You can use this extra space for anything from a place to eat and dry clothes to extra sleeping space (it has a waterproof PVC groundsheet). The tent is made of durable fabric that's double-stitched and openable with heavy-duty zips. The three-inch foam mattress in the main compartment has a cover that you can remove and wash (always a plus with tents, to get rid of that pervasive musty smell), while all windows are lined with mosquito nets.
Buy the Expedition Roof Tent here from Direct 4x4 via eBay
Direct 4x4 Mag-Tower 3 Man Hard Shell Roof Tent
Price: N/ACapacity: Two-three peopleDimensions: 215cm x 145cm x 30cm (closed) | 215cm x 145cm x 100cm (opened)Weight: TBC
This second tent from Direct 4x4 is another one with a hard shell - this one white and made of fibreglass. The tent itself is made of 600-denier polyester fabric, and is erectable with a crank handle that you turn at one corner of the base. Inside, the mattress is 7cm thick, and there's a LED light to help you settle down when it's dark outside. The capacity is advertised as two to three people, but as it's only 20cm wider than the two-person TentBox, we think that three sleepers would prove a bit of a squeeze.
Buy the Mag-Tower 3 Roof Tent from Direct 4x4 via eBay
Have you owned any of these car roof tents? Let us know what you think of them in the comments...