New Alfa Romeo Spider due in 2015
2015 Alfa Romeo Spider will put a modern spin on the car made famous by the Graduate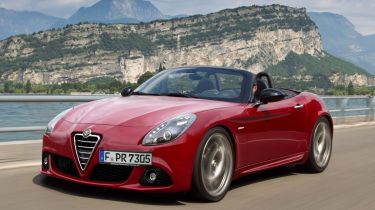 The new Alfa Romeo Spider could be the car to rekindle the public's love affair with Alfa Romeo, as it'll bring distinctive styling cues from the 4C and 8C sports cars, more powerful engines and Hollywood heritage from sixties movie The Graduate.
The Spider will be built alongside the Mazda MX-5 in Japan. It will share the basic steel structure with the MX-5, but will shun that car's smaller engines in favour of the 4C's 1.75-litre turbo, detuned to around 200bhp. Expect a softer chassis than the stripped-out, lightweight 4C.
Alfa's latest TCT twin-clutch transmission will also be offered, combining with a more luxurious interior to elevate the Spider above the top-value Mazda. Prices are set to start at around £25,000 when the car arrives late 2015.