Ariel Ace R motorbike adds extra pace
More powerful Ariel Ace motorcycle to be fully revealed at Motorcycle Live 2016 at Birmingham NEC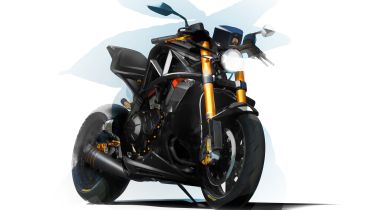 Ariel, the small British brand better known for creating the crazy Atom track car and Nomad buggy, has announced a hotter version of its Ace motorbike.
The new Ariel Ace R uses a tuned 1,237cc Unicam Honda V4 engine, which will offer "a substantial increase in power over the standard Ace." Just for reference, the regular Ariel Ace has 173bhp on offer and a 0-62mph time of just 3.1 seconds. It'll also top out at 165mph, if you're brave enough.
The Ace R will be sold in limited numbers, as just 10 will be made, and will go along the same lines as other "Limited Edition" Ariel models like the Atom V8 and Atom Mugen by having a unique colour scheme and specification.
Head of the Ariel Ace Team, Tom Siebert, said: "the R has a lot of carbon, a lot of machined aluminium and a lot of power!"
We'll find out more details of the R when it makes its public debut at the Motorcycle Live 2016 show at the Birmingham NEC. The event runs from 19-27 November.
Ariel may be known for its ballistic track toys, but its name originally comes from Ariel Motorcycles, which was in business between 1902 and 1970.
Would you put your name down for an Ariel Ace R? Leave a comment below!