Lincoln Town Car
The Lincoln Town car is a large saloon car that's been in production since 1981, and it's probably most famous for its huge size
The Lincoln Town car is a large saloon car that's been in production since 1981, and it's probably most famous for its huge size - at nearly five and a half metres long, it sums up the trend for huge American sedans perfectly. Thanks to its length it was often seen as a stretch limousine, too.
The first versions of the car are recognisable for their vinyl roof and square styling, while second- and third-generation models were less angular, but still featured large-capacity V8 engines and four-speed automatic gearboxes.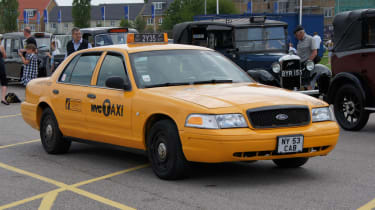 The Town Car is also significant thanks to its close mechanical link to the Ford Crown Victoria: one of the most recognisable cars in the US thanks to its use as a New York taxi and the availability of a Police Interceptor version. When we think of large, American saloon cars from the 1980s and 1990s, the Lincoln Town Car, Ford Crown Victoria and Mercury Grand Marquis will usually be the models that come to mind.
1. Ford Mustang2. Chevrolet Corvette3. Plymouth Road Runner Superbird4. Cadillac Eldorado5. Ford Model T6. AC Cobra7. Ford F-Series8. Tesla Model S9. Jeep Wrangler10. Lincoln Town Car