Bugatti Veyron Black Bess, Legends series model shown in Beijing
Bugatti launches Black Bess at Beijing Motor Show, the fifth and penultimate special edition Veyron Grand Sport Vitesse
This is the Black Bess, the fifth and penultimate special edition Bugatti Veyron based on the Grand Sport Vitesse.
It's made its debut at the Beijing Motor Show and, in keeping with the rest of Bugatti's 'Legends' series, only three will ever be made.
Once again, the luxury French brand has chosen to celebrate a notable name from its past, reviving the 1913 Type 18 "Black Bess" originally owned by French aviation pioneer Roland Garros.
The carbon-fibre body has been painted entirely in black with gold detailing, an echo of its historical namesake's styling. Adding a modern touch to the current design are intricate gold-coloured stripes running from below the headlights and over the front wings towards the rear.
Inside the Black Bess Legend Vitesse, the light 'Beige' leather used for the centre console and cabin rear is contrasted by "Havanna" tone trim for the dashboard, door interiors and cowl panel. Meanwhile, the 'Crimson' leather used for the steering wheel rim is a further reference to the historic Type 18.
Also helping to mark out the interior are hand-painted sketches on the door panel leather. Each side features a unique depiction of the original "Black Bess" and a Morane Saulnier Type H, the plane used by Garros when he completed the first non-stop flight across the Mediterranean.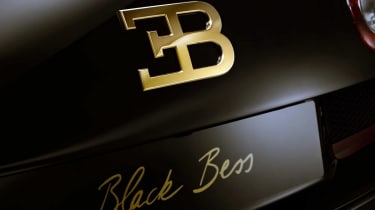 Recurring Legend features for the Black Bess include a "Les Légendes de Bugatti" nameplate for the elongated centre console and interior door sills, as well as the Legends series dancing elephant symbol – finished in gold for this particular limited edition.
Power will once again come from the Grand Sport Vitesse's 8-litre W16 engine generating 1,184bhp and 1,500Nm of torque. The fastest production roadster ever built will manage 254mph with the roof down, and can accelerate from 0-62mph in 2.6 seconds.
Bugatti hasn't revealed any prices, but customers probably shouldn't expect much change out of £2 million if the previous special editions are anything to go by.
Would you spend £2m on a car called Black Bess? There are other options if you feel the need for a 200mph-plus road car, as our run-down of the world's fastest cars reveals.