How to change your car wiper blades
Improve your view – and peace of mind – with our simple DIY guide to fitting new windscreen wiper blades to your car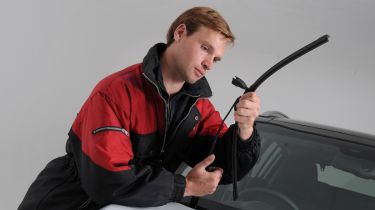 As windscreen wiper blades tend to wear out gradually, it's surprisingly easy to live with a set that is past its best. If you're putting up with annoying squeaks, or peering around an area of smeary windscreen glass when it's raining, you know your car wipers need attention.
At the very least, replacing your worn wiper blades will save you an automatic fail at MoT time but more importantly, you'll be able to safely see where you're going in poor weather – and without any noisy distractions.
Wiper blades are made of rubber and are exposed to all manner of road grime and debris as you drive along, so they naturally wear down – and sometimes crack or perish over time. 
• Best wiper blades to buy now
Fortunately, it's very easy to tell when it's time to replace your wipers: they'll smear dirty water over the windscreen instead of clearing it smoothly. And it also won't cost very much to get new ones: decent sets are available for around £20.
Different cars have different sizes and types of wipers, so make sure you get ones that are listed as being suitable for the make and model of car you own – most car accessory shops have an easy reference catalogue to make sure you can't go wrong when choosing new wiper blades.
How to replace your car windscreen wiper blades
1. Get the right wiper blades for your car
2. Turn your windscreen wipers off
3. Gently lift the wiper away from the windscreen
4. Turn the wipers 90 degrees access the retaining clips
5. Release the old wiper blade
6. Reverse the process to inslatt the new blade
7. Push the wiper back against the windscreen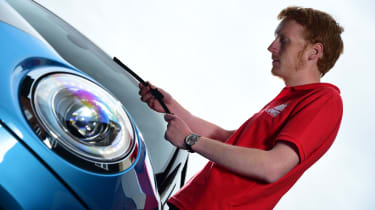 Once you've bought your new set of wipers, swapping out the old ones is a very easy job that should take no more than a few minutes. First, after making sure your wipers are turned off, gently lift them up and away from the car's windscreen. The arms should swing upwards and stay there. You can then turn the wipers 90 degrees to get at the retaining clips.
• Guide to tyre pressures and tread depths
The precise design of the clip will vary a bit from car to car, so have a close look at how everything fits together before you remove it. Most will have a raised part that pushes down to release the wiper blade. Once you hear a click, you should be able to release it.
You simply reverse that process to install the new blade, making sure you install it facing the right way around. Once it's clicked into place, gently lower it back down to the glass and check that it clears the windscreen without smearing. Then you're all done! 
Now check out our test of the best wiper blades on sale...