Electric e.Go Life revealed with Bosch powertrain
A Bosch-powered e.Go Life EV car has been revealed with a £14,000 price tag and 80-mile range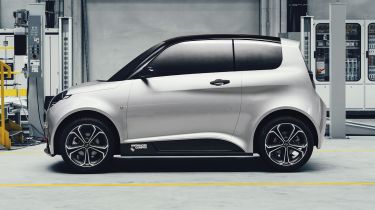 This is the new e.Go Life, a small electric car which costs 15,999 euros (£14,000) and boasts a claimed 80-mile range. The e.Go will be built in Germany and will go into production next year with an initial output of 1,000 vehicles planned. However, the company says it is aiming to produce 10,000 cars in the near future.
Bosch, which has developed the electric powertrain for the vehicle, says that the platform is scalable. The 48-volt batteries and motors that the Life is powered by have been adopted from existing vehicles.
• The best electric cars you can buy
Because the car relies on an existing 10.5kW DC motor that comes from a 48V system, it doesn't require extensive R&D or investment from companies, so costs can be kept low. The 14.4kWh lithium batteries weigh around 90kg and can be charged in five and a half hours. Though the initial range is estimated at 80 miles, a range extender system will take this up to 105 miles in the future.
Auto Express was able to take part in a brief passenger ride in an early prototype of the e.Go Life. Inside, there are two front seats capable of accommodating two adults in comfort, while the rear seats are more suitable for smaller children. There's a small central screen for stereo controls and other features.
As the platform is scalable and Bosch is able to provide all of the drivetrain and electric components, the company believes that "new players" can enter the small city segment for electric cars in the future. 
Do you think the e.Go Life is a good addition to the electric car market? Tell us what you think in the comments section below!