'The Government and the Department for Transport are more out of touch than ever'
Mike Rutherford says the Government needs to get its priorities straight when it comes to improving our roads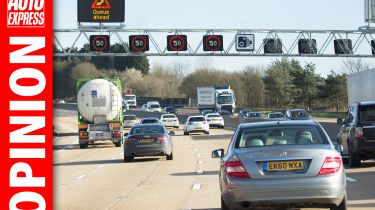 Noticed how little our Government ministers say and do about motoring? Today's trains, buses, bicycles, railways and airports they're obsessed with.
True, they have just promised to halt the sale of petrol and diesel cars by 2040, but that's all in the name of improving air quality in the future. Meanwhile present-day motorists' needs are still left unanswered, which is unacceptable considering drivers contribute £150 million a day to the HM Treasury coffers and rarely see a proper return on their investment.
• UK plans petrol and diesel ban from 2040
Perhaps we should at least be grateful that transport minister John Hayes has finally expressed interest in a motoring matter – motorway service areas. Great. So he's going to outlaw the extortionate prices charged at the pumps and neighbouring shops and coffee bars? Er, no. Not a chance.
Neither is he about to reverse the law that says a motorway service/rest area operator can heavily fine a driver who – in the interests of road safety – has a kip in his vehicle for a few hours.
And Hayes is in no mood to lower the enormous fees his Government charges those operators for the right to sell goods at retail outlets alongside motorways. If he did, maybe those retailers could lower prices which are up to six times higher than on some high streets.
Instead, Hayes has formed a task force dedicated to beautifying motorway service areas so they become "lovely" places to "enjoy".
"Beauty at every turn, every stop," he nauseatingly promises, before concluding: "To believe a Government minister shouldn't dare to speak of beauty is to assume that beauty is beyond politics or perhaps that politics is beneath aesthetics. It's a misconception I want to confront."
• Motorways could see pollution tunnels to trap fumes
This is further evidence that both the Government and the lethargic Department for Transport are more contemptible of and out of touch with road users than ever. Hayes should worry less about beauty and confront the real issues that impact drivers, such as rising congestion; pothole filling; accident prevention and reduction; heinously high car insurance prices; auto crime; EV and autonomous vehicle infrastructure, plus a thousand other matters that are more pressing than 'beautiful' motor service areas. You're barking up the wrong tree, mate. Or maybe you're barking, period.
What do you think of Mike's point of view? Tell us your thoughts in the comments section!