UK motorways could be covered with pollution tunnels to trap fumes
Highways England is investigating 'tunnel-like' canopies designed to contain vehicle emissions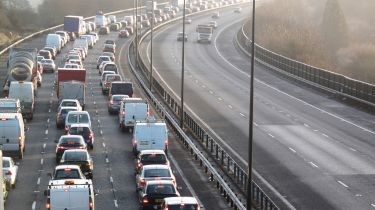 Motorways could be covered with tunnels to protect nearby residents from vehicle emissions under a Government plan. Highways England said it was exploring the possibility of building cantilever barriers or canopies that would soak up harmful fumes from passing traffic.
In its latest air quality strategy, the agency said it was "investigating if we can reduce the costs to construct a canopy, which is a tunnel-like structure designed to prevent vehicle emissions reaching our neighbours, to make this a viable solution". It is working with the Dutch Roads Authority to measure the benefits of a pollution tunnel being tested in the Netherlands.
The agency has also trialled a six-metre high wooden barrier on a 100m stretch of the M62 and a three-metre fence coated in a mineral polymer material which absorbs nitrogen dioxide produced by diesel engines, effectively cleaning the air.
• Diesel ban? Clean Air Zone expansion could see diesel cars charged to enter UK cities
But the RAC said emissions tunnels risked making air quality worse for drivers.
Nick Lyes, roads policy spokesman at RAC, said: "We question whether constructing tunnel-like canopies, even if they are made from a material that can partially clean the air, is the right way to deal with the problem. All this will do is concentrate potentially toxic air over the road which will have an impact on those inside their vehicles who breathe in the trapped pollution.
"The solution should be about reducing levels of pollution by accelerating the transition to ultra-low and zero emission vehicles and encouraging better traffic flow through variable speed limits – something Highways England has started doing on smart motorways."
• Smart motorway refuges painted orange to help drivers
A Highways England spokesperson said: "The best solution to accommodating the extra traffic on our roads, without negatively impacting on air quality, is cleaner low-emission vehicles. In the meantime we are investing £100 million to test new ideas including less-polluting fuels and road barriers which can absorb harmful emissions."
Do you think 'pollution tunnels' would be an effective way to protect people from harmful emissions? Let us know in the comments