Call to cut speed limits to protect horses' lives
Campaigners want lower speed limits in rural areas as 222 horses and 38 riders die in last seven years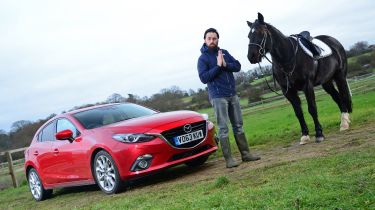 Speed limits in rural areas should be lowered to protect horses and their riders, a leading equestrian charity says.
The British Horse Society (BHS) says that since late 2010, 38 riders and 222 horses have lost their lives on the UK's roads, while 2,510 incidents were reported. It reports the number of accidents involving horses on the roads increased by 29 per cent in the last year, and 81 per cent of all incidents are due to motorists not allowing enough room between their vehicles and horses.
In light of these figures, the BHS is calling for reduced speed limits in rural areas "where there is frequent equestrian activity".
The charity says a fifth of all incidents involved a car colliding with a horse, while 40 per cent of riders are reported to have experienced road rage.
While no specific speed limits have been suggested, the BHS commissioned a report from the Transport Research Laboratory, which argues it is "unwise" for motorists to be travelling at 60mph on roads where horses could be travelling.
But it's not just drivers who should take more care: the report recommends riders themselves should wear LED lights and high-vis clothing to make themselves more visible to other road users.
The BHS' Alan Hiscox said: "Roads are getting busier, and we have seen an increase in incidents in the last year." Hiscox urged that "something has to be done", highlighting the report "recommends reducing the national speed limit on rural roads, where there is frequent equestrian activity; it could save the lives of both the horse and rider, and other vulnerable road users."
What do you think about the issue of horse safety on the roads? Let us know in the comments section below...