France reverses decision to cut default speed limit from 90kmh to 80kmh
French government reverses last year's decision to cut the default speed limit by 10kmh on roads without separation barriers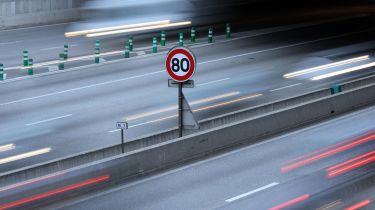 The French government has reversed its decision to reduce the default speed limit on roads without separation barriers, despite there having been less road deaths as a result.
Last year, the default speed limit on France's equivalent to the UK's A and B roads was cut from 90kmh (56mph) to 80kmh (50mph) in a bid to reduce the number of fatalities, which had risen over the previous three years.
• Best breathalysers group test
The move was successful in achieving this goal, with the number of road deaths on the country's rural roads decreasing by 127 in the second half of 2018, compared with the 2013-17 average on the same roads.
The French research institute Cerema and the French Road Safety Observatory attributed this to the new, lower speed limit, while also noting that the average increase in travel time was just one second per kilometre driven.
The government has now been forced to make a U-turn on the policy, though, with protests across France by the yellow vest movement and widespread vandalism of speed cameras pressurising ministers.
It was French prime minister Edouard Philippe who eventually announced the reversal, despite having been strongly in favour of the 80kmh speed limit, both before and after its implementation.
The European Transport Safety Council (ETSC) was critical of the U-turn, pointing out that many of the countries with the best road safety records in Europe have either 70kmh (43mph) or 80kmh speed limits on their equivalent roads, adding that inappropriate speed is responsible for between 20 and 30 per cent of all fatal road crashes in the continent.
Antonio Avenoso, executive director of the ETSC, said: "With more than 3,000 deaths on French roads each year, the French government was right to take bold action to address speed, one of the main killers on the road.
"This decision represents a major public health and safety reversal based not on science and data, but on emotions and short-term political considerations."
What do you think about the measures being taken in France? Let us know below...