Latest live M62 traffic news
Live M62 traffic news and updates for M62 junctions, plus real time travel reports on delays, accidents, roadworks and snow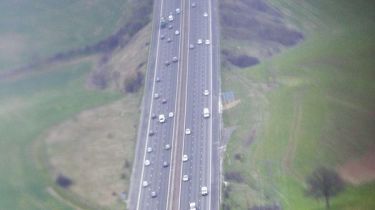 The M62 links Liverpool to Hull, traversing the Pennines along the way. As a result of this, it is the highest motorway in England, with Windy Hill near junction 23 measuring in at 1,221. The M62 shares seven miles with the M60 orbital near Manchester and also has an average daily traffic flow of around 144,000 vehicles in Yorkshire alone.
There are numerous sections prone to traffic problems and gridlock, particularly the Leeds and Huddersfield M60 section. While the M62 does without junctions 1, 2, 3 and 4 because the road was originally supposed to start in the centre of Liverpool, but ended up starting on the outskirts if the city.
• How to use the hard shoulder
Even if you steer clear of the normal traffic hot spots, as with any other motorway, it is subject to delays and traffic jams caused by roadworks and accidents. The advice remains the same as with any journey and it's to always check the weather and traffic conditions before heading out, as knowledge of traffic problems on your route could dramatically cut your journey time.
Below we have included all the information you'll need to check the current traffic conditions ion the M62 with the latest traffic news in a live feed and a real-time traffic map showing any incidents or congestion problems.
Tweets 
Scroll down to find live tweets from the Highways Agency, official police accounts and other traffic news feeds. 
M62 live traffic map 
There's a strong chance that you'll encounter some traffic issues when driving the M62 so just in case there is any disruption you can keep up to date on delays with our live and continuously updated M62 traffic map.
The map below shows live updates on the current disrupted areas of the M62 for roadworks, accidents or general congestion causing delays on the route…
M62 weather report 
Details of the latest weather warnings in the M62 area from the Met Office... 
• Met Office weather in Rochdale
The history of the M62 
The first part of the M62 to be built was the Stretford–Eccles Bypass, of which only 1 mile still exists as the rest is now the section between Junctions 7 to 13 of the M60. Construction started in 1957, and that part of the motorway opened in 1960.
Surveying for the Pennine section began in November 1961 and its route was decided on in July 1963. Construction between Windy Hill and Pole Moor was difficult due to hilly terrain, peat bogs, and harsh weather conditions.
The Lofthouse Interchange was the next section to be completed building took place between 1965 and 1967. Two contracts were agreed for the section between Lofthouse and Ferrybridge in 1972, and both were completed by 1974. Finally, during the construction of Ouse bridge engineers encountered many problems, which delayed the completion until May 1976. 
M62 junctions
All of the M62 junctions on the southbound and northbound carriageways are detailed below...
Westbound exits (B Carriageway)
Junction
Eastbound exits (A Carriageway)
No access (on-slip only)
 
Knotty Ash, Childwall, Broadgreen ,  A5080

Non-motorway traffic

End of motorway
Start of motorway
Knotty Ash, Huyton A5080
J5
Huyton A5080
Liverpool (S) &  A5300, Huyton A5080
J6
Prescot M57, Runcorn, M56 A5300
Widnes A557, Prescot A57, St. Helens A570
J7
St. Helens A570, Warrington A57, Widnes A557
Entering Merseyside
 
Entering Cheshire
Warrington (West) (A574)
J8

Services

Warrington (West) (A574)
Warrington, Newton A49
J9
Warrington (Central), Newton A49
Birmingham, Chester (M56) M6(S)
J10

 

Preston M6(N)

Birmingham, Manchester (S) &  M6(S)

Warrington (East), Birchwood A574
J11
Warrington (East), Birchwood A574
Entering Cheshire
 
Entering Greater Manchester
Start of motorway
J12

 

Manchester  M60(S&E)

Manchester City Centre, Salford M602

Concurrency with M60
Ring Road (E&S), Manchester, Manchester  M60(E)
J18

 

Start of motorway
Birch services
Services
Birch services
Middleton, Heywood A6046
J19
Middleton, Heywood A6046
Rochdale, Oldham A627(M)
J20
Rochdale, Oldham A627(M)
Milnrow, Shaw (A640)
J21
Milnrow, Shaw (A640)
Rakewood Viaduct
Entering Greater Manchester
 
Entering West Yorkshire
Saddleworth A672
J22
Ripponden, Saddleworth A672, Sowerby Bridge (A58)
No access (on-slip only)
J23
Huddersfield (West) A640
Huddersfield, Halifax A629
J24
Huddersfield, Halifax A629
End of variable speed limit
J25
Brighouse, Dewsbury A644
Huddersfield (A62), Brighouse A644
Start of variable speed limit
Hartshead Moor services
Services
Hartshead Moor services
Halifax A58
J26

 

Cleckheaton A638
Batley A62
J27
Batley A62
Leeds, Leeds , Dewsbury A653
J28
Dewsbury A653
The SOUTH M1(S)
J29

 

The NORTH, Leeds M1(N)
Start of variable speed limit
J30
Rothwell, Wakefield A642
Wakefield, Rothwell A642
End of variable speed limit
Normanton, Castleford A655
J31
Castleford, Normanton A655
Pontefract, Castleford A639
J32
Pontefract, Castleford A639
The NORTH, Wetherby A1(M)
J32A

 

The NORTH, The SOUTH A1(M)
The SOUTH A1, Pontefract A645
J33

Services

 

Ferrybridge A162
Entering West Yorkshire
 
Entering North Yorkshire
Selby, Doncaster A19
J34
Selby, Doncaster A19
Entering North Yorkshire
 
Entering East Riding of Yorkshire
The SOUTH, Doncaster M18, Scunthorpe, Humberside  (M180)
J35
The SOUTH M18, Scunthorpe, Humberside  (M180)
Goole A614
J36
Goole A614
Ouse Bridge
Howden A614, Selby (A63)
J37
Bridlington, York, Howden A614
Start of motorway
J38

 

North Cave, Gilberdyke B1230
Newport B1230

Non-motorway traffic

End of motorway
Planning an even longer journey? Then take a look at our live M6 traffic news page.