Latest live A1 traffic news
A1 and A1(M) traffic news and real time updates; get the latest info on A1 traffic delays, roadworks, accidents and snow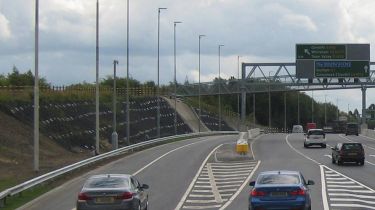 Even though the A1 is just an A road, it is still one of the most important, most busy routes in the UK. At 410 miles in length it certainly has the scale of a motorway, linking together two capitals in the form of London and Edinburgh, as well as many other towns and cities besides.
Inevitably, the A1's length makes delays almost inevitable, and these are only made worse by the fact that the A1 consists of just two lanes. So if you're travelling along some (or heaven forbid, all) of it, you could save yourself a lot of time by staying up to date with the latest traffic news and accident updates available on this page.
With roadworks seemingly a permanent fixture on the A1, and with the usual mix of incidents and traffic jams to contend with, it's far from likely that you'll complete your journey without any delays. And your odds get even worse when the weather intervenes, especially when it snows. But by using the following information, you should be able to improve your odds…
Below you can find all the latest A1 and A1(M) traffic information via our specially built Twitter feed, which draws real-time alerts from the Highways Agency, official police accounts and other traffic news feeds. We've also got a live traffic map so you can pick out incidents as they happen, and there's a list of important intersections as well...
A1 and A1M live traffic map
The A1 passes through North London and over the M25, then keeps heading North past Hatfield, Welwyn Garden City, Stevenage, Letchworth, Peterborough, Grantham, Newark, Doncaster, Leeds, Harrogate, York, Ripon, Darlington, Durham, Gateshead, Newcastle, Alnwick and Berwick.
The map below shows live updates on the current problem areas of the A1 and A1M for roadworks, accidents or general congestion causing delays on the road...   
A1 and A1(M) History
Dick Turpin and his ilk were the cause of many early hold-ups on the A1 back in the days of stagecoach travel (when it was known as the Great North Road), but you'll be extremely unlucky to be accosted by a highwayman today. There are plenty of reports of theft of goods and fuel from parked up lorries in certain sections of the A1, but the average motorist can generally expect safe passage.
However there are still plenty of (often closed) coaching inns along the route that have links to the early days of turnpike travel – including some famous ones like the Ram Jam Inn between Stamford and Grantham.
The A1 was first named as such in 1921 by the Ministry of Transport, but it basically follows a North-South route that has been documented since Roman times.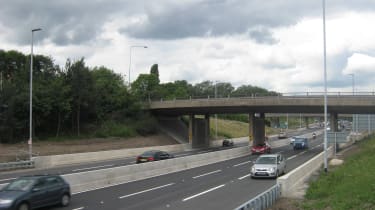 A1 major junctions
Along its length, the A1 and A1(M) has junctions with many significant major roads including:
| | |
| --- | --- |
| Junction with… | Destinations |
| M1 | East Midlands/Yorkshire |
| M18 | Doncaster/Rotherham |
| M25 | London orbital |
| M62 | Liverpool/Warrington/Halifax/Bradford/Leeds/Wakefield |
| A14 | Rugby/Cambridge/Newmarket/Ipswich |
| A64 | Malton/York |
| A66(M) | Darlington |
| A194(M) | Washington/Gateshead |
| A406 | London North Circular |
| A421 | Milton Keynes/Bedford |
| A720 | Craighall/Edinburgh |
Need to use the M25 on your A1 journey? Then take a look at our live M25 traffic news page.