Brexit uncertainty putting 856,000 automotive jobs at risk
The lack of clarity over Brexit in the UK has seen the car manufacturing sector suffer a dramatic fall in investment, says the SMMT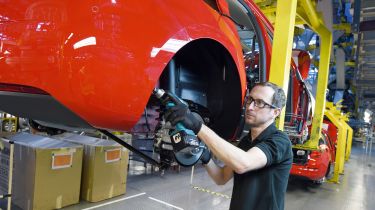 The Government's lack of clarity over Brexit is "working directly against the interests of the UK automotive sector," placing the £20.2 billion sector and up to 856,000 jobs at an unnecessary risk, the SMMT - UK's automotive industry body - has warned.
If the UK wants to maintain its position as a key manufacturing country, the Government must achieve a deal, that "as a minimum, maintains customs union membership and delivers single market benefits," the Society of Motor Manufacturers and Traders has said today.
The most recent figures show that the automotive sector contributes £20.2 billion to the UK economy, with employment both directly in the sector and in supporting fields reaching 856,000.
However, the SMMT's figures also reveal a steady decline in vehicle manufacturing - with car and van output down three and 16.7 per cent respectively - while manufacturers in the UK, including Jaguar Land Rover, Nissan and Vauxhall have recently announced job and dealership cuts. The uncertainty associated with the Government's position on Brexit has also meant the industry has just £347.3 million in new investment earmarked for new models – almost half the sum recorded in the same period last year.
• BMW task force prepares for worst-case scenario Brexit
The SMMT warns that leaving the single market and customs union would put an end to the free movement of goods over the UK's EU borders. More than 1,100 lorries from the EU cross into the UK every day bringing vehicle parts and manufacturing components to UK plants. These factories often work under a 'just in time' delivery system that would be difficult to maintain were customs and border controls tightened.
Speaking at the SMMT's annual summit, SMMT's chief executive, Mike Hawes warned: "There is growing frustration in global boardrooms at the slow pace of negotiations. The current position, with conflicting messages and red lines goes directly against the interests of the UK automotive sector which has thrived on single market and customs union membership.
"There is no Brexit dividend for our industry, particularly in what is an increasingly hostile and protectionist global trading environment. Our message to government is that until it can demonstrate exactly how a new model for customs and trade with the EU can replicate the benefits we currently enjoy, don't change it."
What kind of a Brexit deal should the UK Government negotiate? Tell us in the comments below...