BP to buy Chargemaster electric car charging network
BP to add EV fast chargers at its 1,200 filling stations with its new BP Chargemaster venture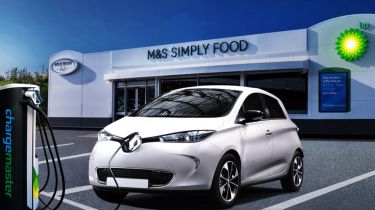 Oil giant BP has announced that it intends to buy the UK's biggest electric vehicle charger suppliers Chargemaster. The Luton-based company operates the Polar charging network with over 6,000 charging points across the UK, covering home, workplace and public installations.
BP currently has 1,200 filling stations in the UK and says that it will roll out ultra-fast chargers, including 150kW rapid chargers capable of delivering 100 miles of range in just 10 minutes, across its forecourts within the next 12 months. The oil company estimates that there will be 12 million EVs on UK roads by 2040, up from around 135,000 in 2017.
• Best electric cars to buy now
David Martell, Chief Executive of Chargemaster, said "The acquisition of Chargemaster by BP marks a true milestone in the move towards low carbon motoring in the UK. I am truly excited to lead the Chargemaster team into a new era backed by the strength and scale of BP, which will help us maintain our market-leading position and grow the national POLAR charging network to support the large range of exciting new electric vehicles that are coming to market in the next couple of years."
The deal will see Chargemaster, which has 40,000 customers, rebranded as BP Chargemaster.  
• Best plug-in hybrid cars to buy now
Tufan Erginbilgic, chief executive, BP Downstream, said: "Bringing together the UK's leading fuel retailer and its largest charging company, BP Chargemaster will deliver a truly differentiated offer for the country's growing number of electric vehicle owners. 
"We believe that fast and convenient charging is critical to support the successful adoption of electric vehicles. Combining BP's and Chargemaster's complementary expertise, experience and assets is an important step towards offering fast and ultra-fast charging at BP sites across the UK and to BP becoming the leading provider of energy to low carbon vehicles, on the road or at home."
Does the birth of BP Chargemaster mark a significant moment in the rise of electric cars in the UK? Let us know in the comments...