Drivers pay over £325 to fix MoT faults
Average cost of putting a car right after a failed MoT pegged at £326.85, with 30 per cent of failures down to faulty lights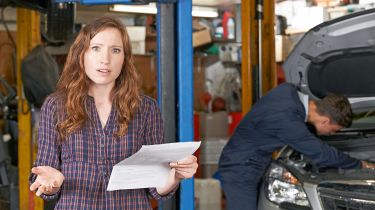 Cars that fail their MoTs cost over £325 on average to put right, it has been revealed.
Motorists pay out an average of £272 for the repairs, amounting to a total cost of £326.85 when the £54.85 testing fee is taken into account.
Government figures show 30 per cent of all MoT failures relate to lightbulbs, 10 per cent are to tyres and 8.5 per cent to drivers' view of the road, including issues with mirrors, wipers and washers.
• MoT test changes 2018: new failure categories take effect
A survey of 2,000 motorists conducted by the Good Garage Scheme found 27 per cent of drivers don't know how to check their tyre pressure, 29 per cent can't pump a tyre up and 50 per cent are unable to change a wheel.
Of those surveyed, 43 per cent said they had owned a car that failed its MoT, while 46 per cent have struggled to find the money to pay the repair bill.
Meanwhile, 26 per cent can't check their oil or top it up and 39 per cent don't know how to refill the engine's anti-freeze or coolant.
Some 43 per cent mistakenly believe dirty headlamps will cause them to fail an MoT, while 73 per cent aren't aware their car may automatically fail if the fuel reserve light is on as the garage won't be able to test emissions properly.
Respondents in Liverpool paid the most for their MoTs with an average of £441.38, while at the other end of the scale, those in Belfast were only charged £78.17.
| | |
| --- | --- |
| Top 10 cities for MoT cost | Average amount spent fixing MoT faults |
| Liverpool | £441.38 |
| Aberdeen | £406.50 |
| Birmingham | £354.41 |
| Leeds | £352.09 |
| Glasgow | £340.75 |
| Norwich | £337.04 |
| Newcastle | £318.50 |
| Oxford | £315.49 |
| London | £294.98 |
| Southampton | £280.21 |
Philip Dugmore, technical manager at the Good Garage Scheme, said motorists should learn how to do "simple" bits of car maintenance, such as checking the oil, as well as carrying out basic checks like "checking your battery, topping up antifreeze, checking your tyres and cleaning your lamps, windscreen and washers".
He said motorists could "save themselves a lot of time and money " by doing this and could refer any more complicated issues to a garage.
Drivers overspending on garage repairs by £3.4 billion
British drivers are overspending by £90 per vehicle per year on garage repairs, according to new research. Taken on a national level, UK motorists are paying out £3.4 billion over the odds every year, with garages 'upselling' potentially unnecessary brake fluid and antifreeze changes, and services such as fuel-system cleans.
• MoT test checklist: top tips to help your car pass first time
And with 52 per cent of UK drivers not knowing what an MoT test involves, garages would appear to be taking advantage of a lack of consumer awareness. The analysis, carried out by breakdown firm Green Flag, also reveals 31 per cent of drivers don't feel they have the knowledge to negotiate with garages.
That may well be linked to the fact that four out of five men and nine out of 10 women are unaware how much they should pay for garage jobs, with 40 per cent saying they had previously underestimated the cost of repairs. Young drivers are most likely to leave themselves open to unnecessary expense, with those aged 16-24 revealing the least garage-based knowledge.
Unsurprisingly, Londoners spend the most on garage repairs, with an average annual bill of £507.62. Leeds residents paid £497.57 a year while, by contrast, those living in Nottingham spend just £348.84 a year on their cars' upkeep.
The most common unnecessary 'upsells'
• Brake fluid change
• Antifreeze drain and refill
• Fuel/ oil cleaners
• Brakes – pads and discs (when wear is within safety limits)
• Wiper blades
• Battery replacement
• Tracking
• Oil top ups
• Tyres (When tread is well within legal limit)
• Pollen filters
Nick Reid, head of automotive technology at Green Flag, said the overspending is "fuelled by a combination of the changes in the MOT test and a lack of confidence in negotiating with garages." This, Reid said, means "motorists are becoming less equipped to ensure they're getting the best deal on repairs."
Have you ever felt like you've been overcharged for garage repairs? Let us know about your experiences in the comments section below…