MoT test checklist: top tips to help your car pass first time
Read our MoT checklist for the best tips to avoid unnecessary - and possibly expensive - MoT fails
Three years after a car is first registered here in the UK, it is subject to an MoT test to ensure it is still safe to drive on the road. This isn't a negotiable thing, it is required by law and following the first MoT, the test must be carried out once a year.
MoT itself stands for 'Ministry of Transport', which was a Government department originally formed in the 1960s. Since then, the Ministry has seen various names, but is known today as the Department for Transport or DfT. That being said, the actual regulation of the tests is carried out by the Driver and Vehicle Standards Agency (DVSA), which is also part of the DfT.
Even though it has been around a long time, the main ethos behind the MoT has not changed. It is designed to identify any weaknesses or faults on a car which may endanger the lives of road users – both inside and outside the car. However, and very topical at the moment, emissions testing was also introduced to the MoT test in a bid to identify and repair cars which have defunct emissions control systems e.g. catalytic converters.
Should a vehicle fail its MoT, it is not permitted to be used on the public highway (excluding of course being trailered), unless you are going to or from an  pre-booked MoT MoT test at an authorised garage. Thus, it is vital to make sure your chariot of fire passes its MoT first time, saving you time, money, and hassle.
There was a time when a paper MoT certificate was a vital document, and the police would routinely ask to see it during traffic stops. Nowadays the information is stored on a national MoT online database and the paper MoT issued after your test is simply a statement of whether your car has passed or failed. It can be a handy document for when it comes to sell your car on as it shows its service history, and it's also a useful reminder of when your test is coming around again. However, if you've mislaid the paperwork - which is easily done - you can check your car's MOT status (or the MoT status of any vehicle) by searching for the phrase 'when's my MoT due' online.
If you use a regular garage or test centre, they may keep a record of your MoT due date, and can send out MoT reminders if necessary. However most people have a rough idea of their vehicle's MoT expiry date, as it's become such an intrinsic part of car ownership.
The most recent major change to the way MoTs work came in May 2018, when a new fault grading system was introduced. Faults are now categorised as Minor, Major and Dangerous – with the latter two equating to an automatic test fail. Cars with Minor faults will pass the test, but their MoT certificates will clearly show that the car passed the test "with defects", urging owners to effect a "repair as soon as possible".
How much does an MOT cost?
The MoT cost is controlled by law, with a maximum charge for cars set at £54.85. An individual MoT test centre can choose to charge less, so it's worth shopping around. If you think you've a chance of failure, make sure you pick an MoT test centre that offers free retests within 10 days, as you can be charged a partial retest fee. If repairs take longer, you'll have to pay the full fee again.
Partnership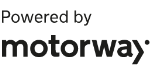 Need to sell your car?
Find your best offer from over 5,000+ dealers. It's that easy.
• How to get a job as a car MOT tester
How to pass the MoT test
Many garages are able to conduct MoT tests, although if you're suspicious of garages that will charge for unnecessary work, it's probably best to take your car to a dedicated MoT test centre.
When people book MoT tests, even if there's the offer of a free retest, they don't generally want the hassle of having to go back to the garage. That's why it makes sense to understand the vehicle MoT check rules, and carry out some simple steps to try and guarantee that vital MoT pass. These tips below won't help you if your car has significant mechanical wear items, or if your emissions are over the limits, but on an otherwise well-maintained car they can certainly reduce the annoyance and hassle of an avoidable MoT failure.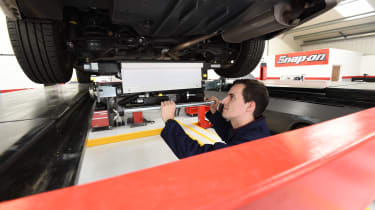 MoT rules for tyres
Any tyre that doesn't have at least 1.6mm of tread across the middle three-quarters is an instant MoT failure. Tyres with significant damage such as cuts, bulges or cracking will cost you a pass certificate too.
MoT rules for lights
All your vehicle's lights must be clean and work correctly, or you will fail the MoT. So before you book it in, check they do. That means headlamps on full and dipped beam, sidelamps and daytime running lights, hazard lights and indicators, fog lamps if fitted, and even number plate lights at the back. You can pick up most bulbs from car accessory stores, and they're usually easy to fit – if sometimes a little fiddly.
MoT rules for windscreen and wipers
Not every chip or crack on a windscreen will cost you an MoT certificate, as it's all down to location. The details may seem complicated, but as a rule of thumb you can get away with chips smaller than 10mm in front of the driver. Any damage bigger than 10mm in front of the driver – and also in the glass area swept by the wipers – will be an MoT fail. Elsewhere on the glass, damage has to be larger than 40mm to constitute an MoT fail.
• Best windscreen wipers to buy now
Wiper blades must be in good condition – not perished or damaged – and clear the screen effectively. The washers must work too, and the MoT tester is within their rights to issue a fail if you haven't topped up the washer bottle or unblocked dirty washer jets with a pin!
MoT rules for number plates
As well as using the correct lettering style and spacing, your number plates need to be clean and easy to read from a distance. Modified number plates, damaged number plates or otherwise illegal plates will fail the MoT.
MoT rules for diesel particulate filters
If you own a diesel car fitted with a diesel particulate filter (DPF), it could be given a Major defect and automatically fail the MoT test if it emits "visible smoke of any colour" during metered checks.
Testers will also inspect DPFs closely for signs of removal or tampering, awarding a Major defect and failing the car if foul play is detected. Testers must refuse to test any car where the "DPF canister has clearly been cut open and re-welded" unless the owner "can show evidence that there was a valid reason to cut it open, such as for filter cleaning."
Get a free MOT with a full service from Motoreasy with the code: AUTOEXPRESSMOT
Find out how to save on your car running costs here or how to check your engine coolant level