Government invests £10million in digital tech to beat roadwork jams
New Street Manager planning system could work with Google Maps and Waze to help drivers avoid roadworks and traffic jams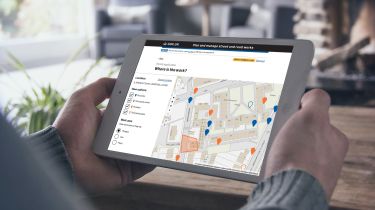 The Government is investing up to £10 million into a new digital service that will allow drivers to better plan their journeys around roadworks.
Street Manager will be a free service, providing apps like Google Maps and Waze with real-time traffic data, allowing them to further enhance their route guidance. The Department for Transport says new apps could be created to make best use of the service, while road users could also receive push notifications, preventing them from being caught up in roadworks. The average UK motorist currently spends 32 hours a year stuck in traffic jams. 
• Android Auto review and user guide
The Department for Transport says the current system used by utility companies and local authorities to alert drives to roadwork-related traffic is "costly and ineffective". The new system will allow the 2.5 million roadworks that take place in the UK every year to be more accurately recorded. 
Google-owned Waze currently uses driver-generated reports of incidents to help inform other motorists of traffic delays, while Google Maps draws data from mobile phone locations to calculate traffic flow and help route planning.
Commenting on Street Manager, roads minister Jesse Norman said: "Roadworks can often be frustrating for motorists, especially when they cause hold-ups at busy times and delay journeys. 
We want to reduce this disruption and delay, and Street Manager is just one of a number of actions we are taking so that local authorities and utility companies can better plan and manage their roadworks." Norman added: "The data opened up by this new digital service should enable motorists to plan their journeys better, so they can avoid works and get to their destinations more easily."
Will more accurate information on traffic delays caused by roadworks solve the problem? Let us know in the comments…