All motorsport to be made impossible by new EU insurance rules
Unless amended, the European Motor Insurance Directive will require all cars to be fully insured, making all forms of motorsport impossible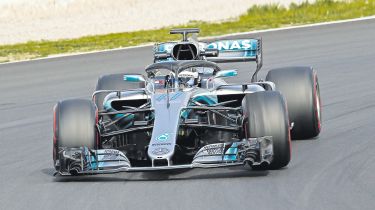 European Union rules for insurance will effectively kill off motorsport unless they are amended, according to a leading trade body.
The Motorsport Industry Association (MIA) has highlighted that unless amendments are made to the EU's Motor Insurance Directive, Formula 1, Rallycross, BTCC and all other forms of motorsport will effectively be outlawed. 
That's because the EU's Motor Insurance Directive calls for "any motor vehicle intended for travel on land and propelled by mechanical power" to have compulsory insurance.
Chris Aylett, chief executive of the MIA told Auto Express: "Unless the EU amends the wording or the insurers change their minds entirely, motor sport will become illegal."
Unlimited third-party liability insurance for all vehicles
The issue relates to the EU Motor Insurance Directive and an EU ruling in 2014 on an accident involving a Slovenian farm worker who was knocked off his ladder by tractor driven on private land.
The Court of Justice of the European Union ruled in the 'Vnuk case' – named after the unfortunate farm worker – that in all EU members states, all motor vehicles must have compulsory unlimited third-party liability insurance if they are being used within their "normal function".
When challenged on their ruling in May this year, the European Commissions ruled that insurance would be mandatory for: "any use of a vehicle, consistent with its normal function as a means of transport, irrespective of the terrain on which the motor vehicle is used and whether it is stationary or in motion".
• Best car insurance companies 2018
"This law applies to any motor vehicle, on any land, anywhere in the UK and EU", Aylett told us. "For most of these circumstances – golf buggies and ride-on lawnmowers, for example, you could probably get cover for not too much money."
But he warned: "No insurer will pick up the risk of motorsport accidents. They can't give unlimited liability to personal injuries or vehicle accidents on the racetrack."
Most governments, including the UK's, have yet to sign this aspect of the Motor Insurance Directive – a EU piece of legislation – into their national laws. The UK's High Court ruled in November last year, however, that these rules should be written into law, though no date to do so has yet been set.
"The Government has been fantastic", Aylett said. "The Department for Transport is categorically saying the rules should include the words 'in traffic only'".
The European Parliament and the Council of the European Union are due to vote on amending the Motor Insurance Directive in December, putting a final ruling in place on whether it should apply to all vehicles on all land. If they fail to amend the Directive, however, this technicality could put an end to motorsport in Europe.
And Aylett pointed out that Brexit will have little effect on the rulings, both because the laws will apply on the rest of the continent, and because the UK is likely to maintain EU laws during any transition period.
Those wishing to object to the Motor Insurance Directive can write to their MEP using a template letter provided by the MIA. Tell us what you think in the comments...