New roads should not prioritise cars, says health body
Healthcare organisation calls for new roads to prioritise pedestrians, cyclists and public transport over cars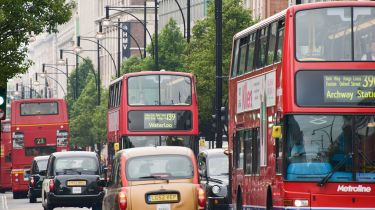 New and upgraded roads should not prioritise cars, according to a healthcare body.
The National Institute for Health and Care Excellence (NICE) says planners should not only ensure that safe, convenient and inclusive access for pedestrians, cyclists and users of public transport is maximised, but that these demographics should be prioritised over motorised transport, including cars, motorbikes and mopeds.
The proposal was made in a newly published draft quality standard for encouraging physical activity within the general population.
• Most dangerous A-roads targeted by new plan to cut 1,450 road casualties
NICE argues the measures would make people more active in their day-to-day lives. The organisation points out that physical inactivity is responsible for one in six deaths and is believed to cost the UK £7.4 billion per year, £900 million of which is paid for by the NHS.
Joe Irvin, CEO of Living Streets, the UK charity for everyday walking, said: "For decades our towns and cities have been built to prioritise motor vehicles; resulting in unhealthy air, congested roads and a decline in people walking everyday journeys.
"The better planning that NICE is suggesting is absolutely necessary. Those who are the most vulnerable – children and older people – are currently suffering the most from bad air, unhealthy lifestyles and social isolation."
• State of local roads top motorists' concerns
Professor Gillian Leng, deputy chief executive and director of health and social care at NICE, added: "Asking planners to prioritise pedestrians, cyclists and those who use public transport when roads are built or upgraded can ensure they are safe, attractive and designed to encourage people to get out from behind their wheel."
However, the proposals drew criticism from motoring group the RAC. Its head of roads policy Nicholas Lyes highlighted that "the use of many roads is inevitably shared between different types of motorised traffic, cyclists and pedestrians – with priority often given to motorised transport in order to keep large numbers of people moving."
Lyes argued that using a car is "the only feasible option for many people, especially if they are commuting or travelling to locations that aren't served by public transport, or where walking or cycling are not practical alternatives."
He added: "It is worth noting that NICE has previously acknowledged the importance of smooth traffic flow in order to reduce air pollution, so we would hope that this new guidance does not result in local planners building or changing roads which results in more congestion and pollution, rather than less."